https://pragmatic365.org/display-show.asp?ComponentNo=000421
Do you agree that there are two fundamental types of information? Do you agree that to enable transformation, they both need to exist at different levels of Idealisation/Realisation? https://pragmatic365.org/display-show.asp?ComponentNo=000421 FREE EA Training at www.PEAF.com/Training FREE EA Books at www.PEAF.com/Books #PEAF #PragmaticEA #EntArch #enterprisearchitecture #BizArch #Change #Innovation #BusinessModel #CEO #Strategy #TOGAF #ITgovernance #agileculture #agile #agileleadership #agilemethodology #itstrategy #ceos
In the past, people only saw part of the picture – that Strategy and Execution were the top two levels of abstraction and Structure was the conceptual, logical, physical and operational levels. https://pragmatic365.org/display-show.asp?ComponentNo=000421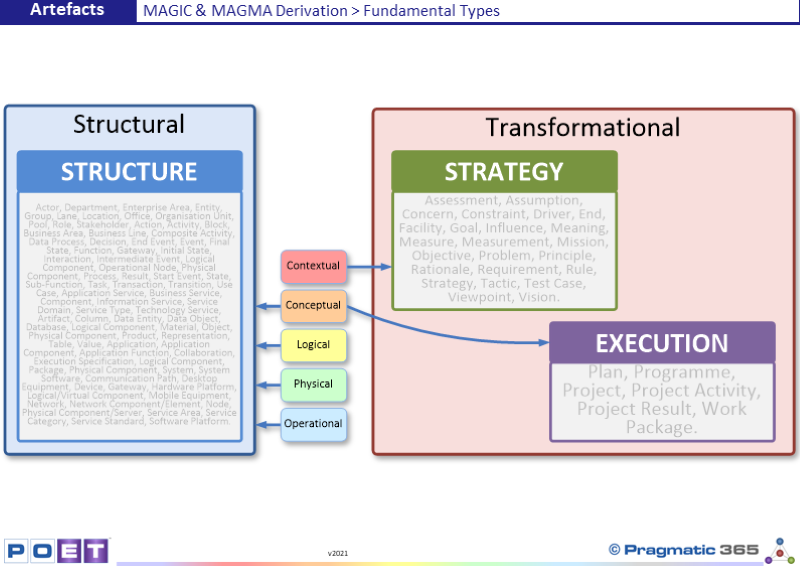 POET also recognises that all three are required, but POET also recognises that there are actually two fundamental types of information - Structural and Transformational. Many people have only thought in terms of the higher level of transformation aka Strategy and the next level of transformation of Execution. In fact the types of things within these domains exist in different forms at multiple levels. The same fundamental things but referred to using different names. For example, a plan might be called; a strategy at one level, a roadmap at another level, a project plan at another level and a work breakdown structure at another level.
| | |
| --- | --- |
| Keypoint | Adopt this component by... |
| In the past, people only saw part of the picture – that Strategy and Execution were the top two levels of abstraction and Structure was the conceptual, logical, physical and operational levels. | |
Questions to ponder...
Do you agree that there are two fundamental types of information?
Do you agree that to enable transformation, they both need to exist at different levels of Idealisation/Realisation?