https://pragmatic365.org/display-show.asp?ComponentNo=000322
Where is your Enterprise on this graph? Where will it be in the next one, three, five years? What will you do then? What will you do now to prepare for then? https://pragmatic365.org/display-show.asp?ComponentNo=000322 FREE EA Training at www.PEAF.com/Training FREE EA Books at www.PEAF.com/Books #PEAF #PragmaticEA #EntArch #enterprisearchitecture #BizArch #Change #Innovation #BusinessModel #CEO #Strategy #TOGAF #ITgovernance #agileculture #agile #agileleadership #agilemethodology #itstrategy #ceos
As Transformational Complexity rises, use of the Architecture Paradigm™ becomes mandatory, to preserve your ability to transform, and manage the cost of transformation. https://pragmatic365.org/display-show.asp?ComponentNo=000322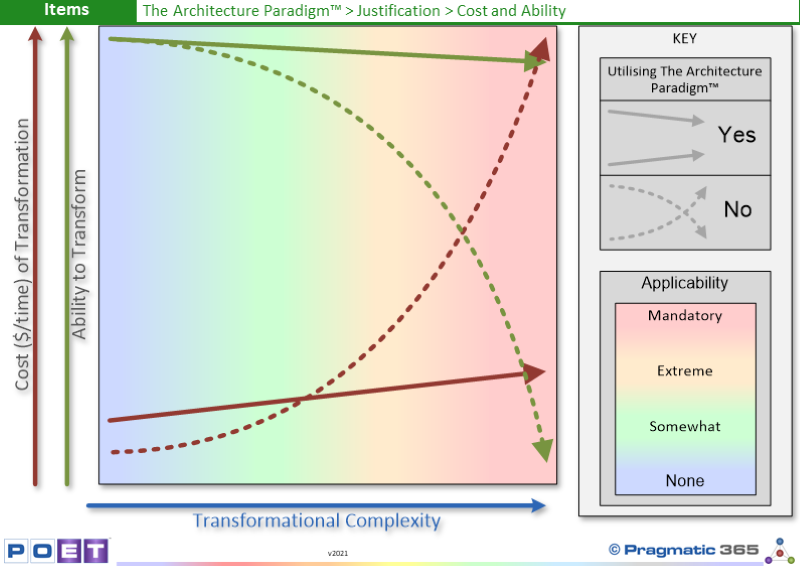 Here we see how the Cost of Transforming some "thing" and the Ability to Transform some "thing" changes as Transformational Complexity increases.
The dotted lines indicate the result if we DO NOT USE The Architecture Paradigm™
¨ The Cost of Transformation (the red dotted line) - starts very low but rises exponentially as Transformational Complexity rises. Ultimately it rises to a point where the cost of Transforming becomes prohibitive.
| | |
| --- | --- |
| Keypoint | Adopt this component by... |
| As Transformational Complexity rises, use of the Architecture Paradigm™ becomes mandatory, to preserve your ability to transform, and manage the cost of transformation. | C-Suite: Accept that while Architecture may sometimes be not applicable, at others times, it is mandatory. |
Questions to ponder...
Where is your Enterprise on this graph?
Where will it be in the next one, three, five years?
What will you do then?
What will you do now to prepare for then?