https://pragmatic365.org/display-show.asp?ComponentNo=000629
Which Tool Vendors have you heard about? Which Tool Vendors tools have you used? What is your view of each of these Tool Vendors? https://pragmatic365.org/display-show.asp?ComponentNo=000629 FREE EA Training at www.PEAF.com/Training FREE EA Books at www.PEAF.com/Books #PEAF #PragmaticEA #EntArch #enterprisearchitecture #BizArch #Change #Innovation #BusinessModel #CEO #Strategy #TOGAF #ITgovernance #agileculture #agile #agileleadership #agilemethodology #itstrategy #ceos
Many of the EA Tool Vendors, are not EA Tool Vendors. https://pragmatic365.org/display-show.asp?ComponentNo=000629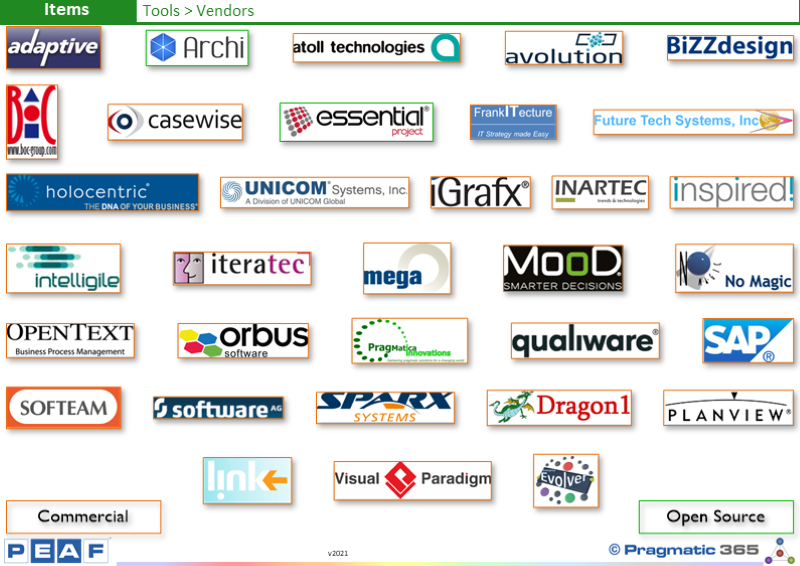 Here we present all the EA Modelling tool vendors presently in the marketplace.
Detailed information about the companies, their tools and licensing can be found in the PEAF Toolkit.
| | |
| --- | --- |
| Keypoint | Adopt this component by... |
| Many of the EA Tool Vendors, are not EA Tool Vendors. | EA Project Team: Consider, all the EA Tool Vendors in the market. |
Questions to ponder...
Which Tool Vendors have you heard about?
Which Tool Vendors tools have you used?
What is your view of each of these Tool Vendors?