https://pragmatic365.org/display-show.asp?ComponentNo=000498
What frameworks does your Enterprise use? How are the frameworks you use, related? Is your Enterprise reaping the benefits that were anticipated? If not, why not? https://pragmatic365.org/display-show.asp?ComponentNo=000498 FREE EA Training at www.PEAF.com/Training FREE EA Books at www.PEAF.com/Books #PEAF #PragmaticEA #EntArch #enterprisearchitecture #BizArch #Change #Innovation #BusinessModel #CEO #Strategy #TOGAF #ITgovernance #agileculture #agile #agileleadership #agilemethodology #itstrategy #ceos
PEFF provides the Context for POET provides the Context for PEAF. https://pragmatic365.org/display-show.asp?ComponentNo=000498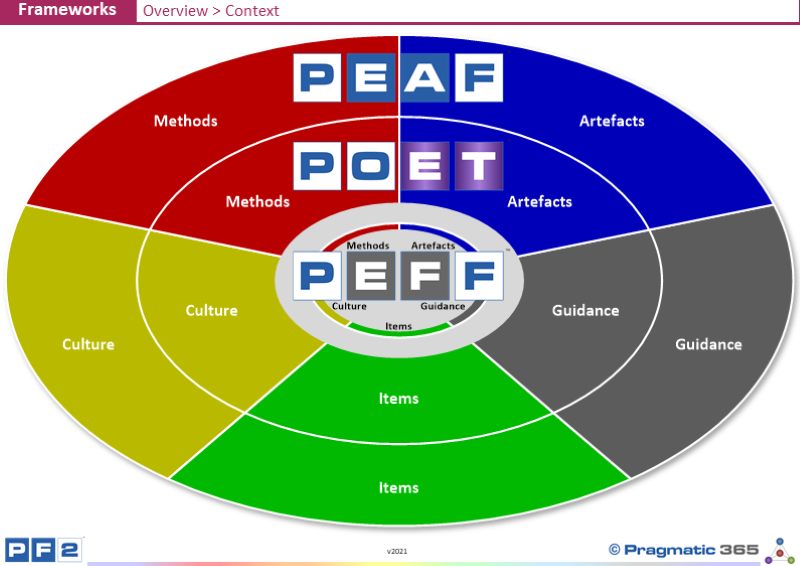 The relationships between the frameworks is important.
PEFF sits and the centre and defines the context and foundation for all other frameworks. One thing PEFF defines is MAGIC (Methods, Artefacts, Guidance, Items, Culture) which is a fundamentals structural ontology that all other frameworks are based upon.
| | |
| --- | --- |
| Keypoint | Adopt this component by... |
| PEFF provides the Context for POET provides the Context for PEAF. | EA Project Team: Make sure you adopt all the frameworks that a framework inherits from. |
Questions to ponder...
What frameworks does your Enterprise use?
How are the frameworks you use, related?
Is your Enterprise reaping the benefits that were anticipated?
If not, why not?