https://pragmatic365.org/display-show.asp?ComponentNo=000548
Do you think this word cloud helps or hinders peoples understanding? Are there things you think are missing? Are there things here that you believe should not be? https://pragmatic365.org/display-show.asp?ComponentNo=000548 FREE EA Training at www.PEAF.com/Training FREE EA Books at www.PEAF.com/Books #PEAF #PragmaticEA #EntArch #enterprisearchitecture #BizArch #Change #Innovation #BusinessModel #CEO #Strategy #TOGAF #ITgovernance #agileculture #agile #agileleadership #agilemethodology #itstrategy #ceos
Removing synonyms, 300+ people use a small number of different words when describing the purpose of EA. https://pragmatic365.org/display-show.asp?ComponentNo=000548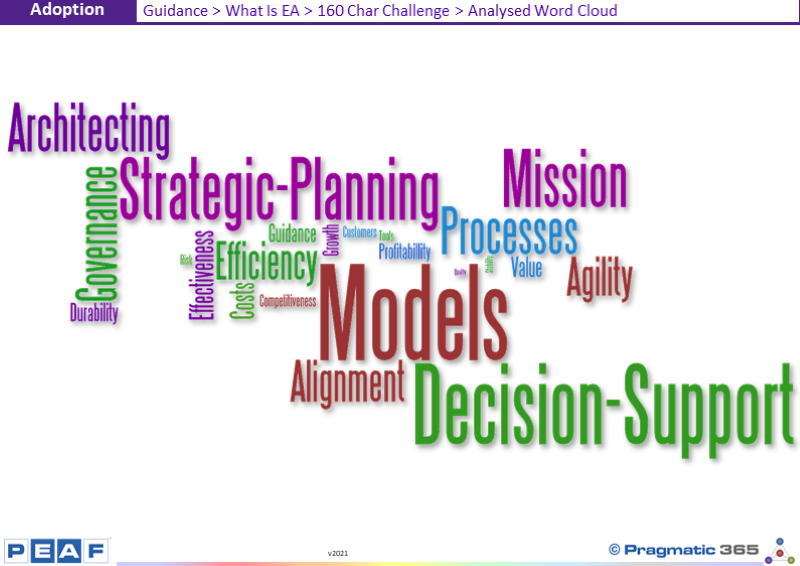 This word cloud was generated using the words from the analysed three perspectives combined. Looking at this cloud and letting it seep into your mind is a reasonable way of getting a flavour of EA.
| | |
| --- | --- |
| Keypoint | Adopt this component by... |
| Removing synonyms, 300+ people use a small number of different words when describing the purpose of EA. | |
Questions to ponder...
Do you think this word cloud helps or hinders peoples understanding?
Are there things you think are missing?
Are there things here that you believe should not be?