https://pragmatic365.org/display-show.asp?ComponentNo=000583
Does your Enterprise provide EA Training? Do new hires get introduced to your EA framework? If not, does this have an effect on how effective your EA capability is? If so, what are the effects of those issues and problems? What will you do to solve them? https://pragmatic365.org/display-show.asp?ComponentNo=000583 FREE EA Training at www.PEAF.com/Training FREE EA Books at www.PEAF.com/Books #PEAF #PragmaticEA #EntArch #enterprisearchitecture #BizArch #Change #Innovation #BusinessModel #CEO #Strategy #TOGAF #ITgovernance #agileculture #agile #agileleadership #agilemethodology #itstrategy #ceos
Without continuous EA Education, EA will die. https://pragmatic365.org/display-show.asp?ComponentNo=000583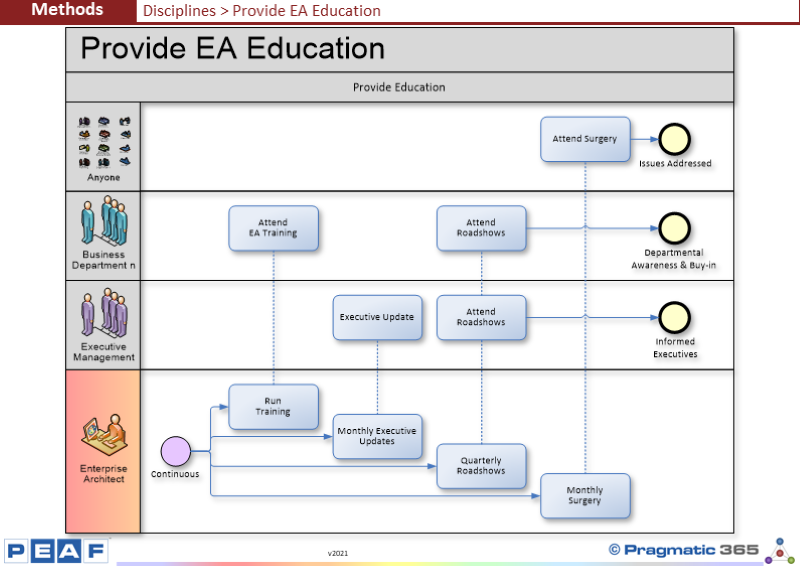 Communication and education is one of the keys to mitigating many of the risks associated with adoption EA. For this reason, good quality and continuous education is mandatory if Enterprise Architecture is to be a success.
IF YOU DO NOT DO THIS, OR YOU DO IT BADLY, YOU WILL FAIL.
| | |
| --- | --- |
| Keypoint | Adopt this component by... |
| Without continuous EA Education, EA will die. | Enterprise Architect: Provide continuous EA Education. |
Questions to ponder...
Does your Enterprise provide EA Training?
Do new hires get introduced to your EA framework?
If not, does this have an effect on how effective your EA capability is?
If so, what are the effects of those issues and problems?
What will you do to solve them?