https://pragmatic365.org/display-show.asp?ComponentNo=000535
What do you use, for the Logical model for your Enterprise's EA capability? https://pragmatic365.org/display-show.asp?ComponentNo=000535 FREE EA Training at www.PEAF.com/Training FREE EA Books at www.PEAF.com/Books #PEAF #PragmaticEA #EntArch #enterprisearchitecture #BizArch #Change #Innovation #BusinessModel #CEO #Strategy #TOGAF #ITgovernance #agileculture #agile #agileleadership #agilemethodology #itstrategy #ceos
PEAF enables you to mature your EA capability. Pragmatically. https://pragmatic365.org/display-show.asp?ComponentNo=000535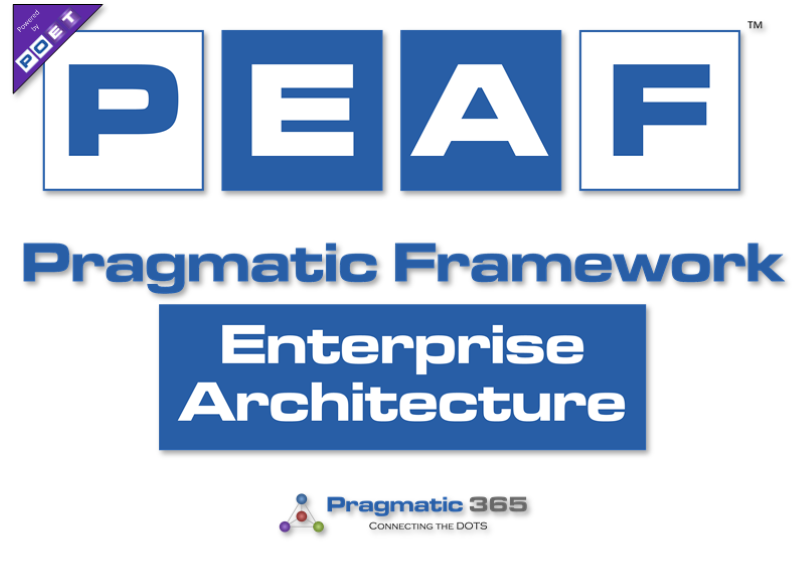 In many respects Enterprise Architecture can be compared to gardening - or more accurately the MAGIC that allow a gardener to produce a pleasant garden or to grow fruit and vegetables.
A lot of people try to "sell" Enterprise Architecture with quick wins and low-hanging fruit. Whilst we will certainly not ignore such opportunities if they exist, to pursue only those quick wins is totally against the raison d'ętre of Enterprise Architecture.
| | |
| --- | --- |
| Keypoint | Adopt this component by... |
| PEAF enables you to mature your EA capability. Pragmatically. | Management: Instigate a project to ensure everyone related to Transformation is trained in PEAF/XEAF. |
Questions to ponder...
What do you use, for the Logical model for your Enterprise's EA capability?