https://pragmatic365.org/display-show.asp?ComponentNo=000718
Where do you fit into this diagram? Does it change if you consider professional vs private life? Does it change upon situations? If you are angry or calm? Can you think of examples of your yin and examples of your yang? Does change always bring chaos into order, or can it also bring order into chaos? Which areas of your Enterprise have a good balance of chaos and order? Which areas have too much chaos? Which areas have too much order? https://pragmatic365.org/display-show.asp?ComponentNo=000718 FREE EA Training at www.PEAF.com/Training FREE EA Books at www.PEAF.com/Books #PEAF #PragmaticEA #EntArch #enterprisearchitecture #BizArch #Change #Innovation #BusinessModel #CEO #Strategy #TOGAF #ITgovernance #agileculture #agile #agileleadership #agilemethodology #itstrategy #ceos
'In all chaos, there is a cosmos. In all disorder, a secret order.' - Carl Jung https://pragmatic365.org/display-show.asp?ComponentNo=000718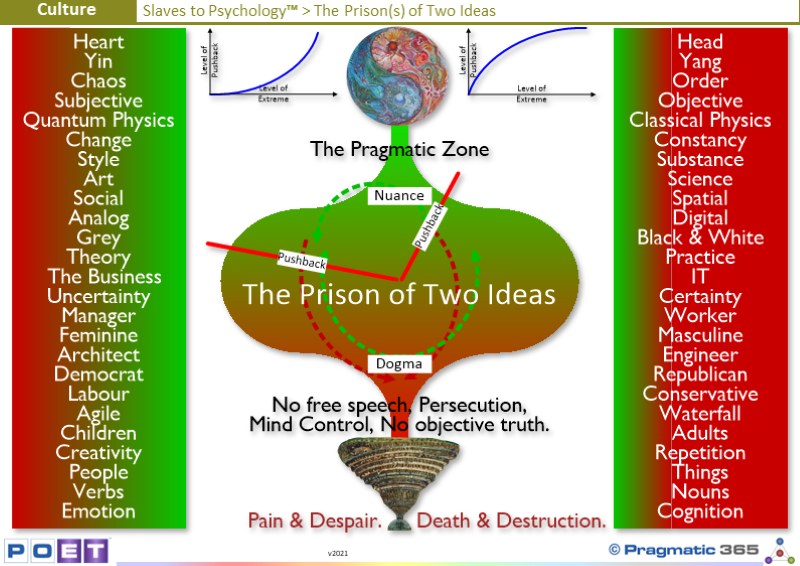 First of all, I need to make something very very clear.
Chaos is not inherently bad, and Order is not inherently good. Both have the capacity for good and bad. Whoever thought of those names initially made a big big mistake because in most civilisations, the connotations are that chaos is bad and order is good, which spikes any conversation from the get-go. So let's put those connotations in a box right at the start.
Keypoint

Adopt this component by...

'In all chaos, there is a cosmos.

In all disorder, a secret order.'

- Carl Jung

C-Suite: Mandate that people seek to balance Chaos with Order. Never to remove Chaos or Order.
Questions to ponder...
Where do you fit into this diagram?
Does it change if you consider professional vs private life?
Does it change upon situations? If you are angry or calm?
Can you think of examples of your yin and examples of your yang?
Does change always bring chaos into order, or can it also bring order into chaos?
Which areas of your Enterprise have a good balance of chaos and order?
Which areas have too much chaos?
Which areas have too much order?