https://pragmatic365.org/display-show.asp?ComponentNo=000623
Are these reasonable criteria? If not, what criteria would you use? How would you score each Framework? https://pragmatic365.org/display-show.asp?ComponentNo=000623 FREE EA Training at www.PEAF.com/Training FREE EA Books at www.PEAF.com/Books #PEAF #PragmaticEA #EntArch #enterprisearchitecture #BizArch #Change #Innovation #BusinessModel #CEO #Strategy #TOGAF #ITgovernance #agileculture #agile #agileleadership #agilemethodology #itstrategy #ceos
Key Framework comparison criteria: Strategic vs Project, Enterprise vs IT, Detail vs Usability. https://pragmatic365.org/display-show.asp?ComponentNo=000623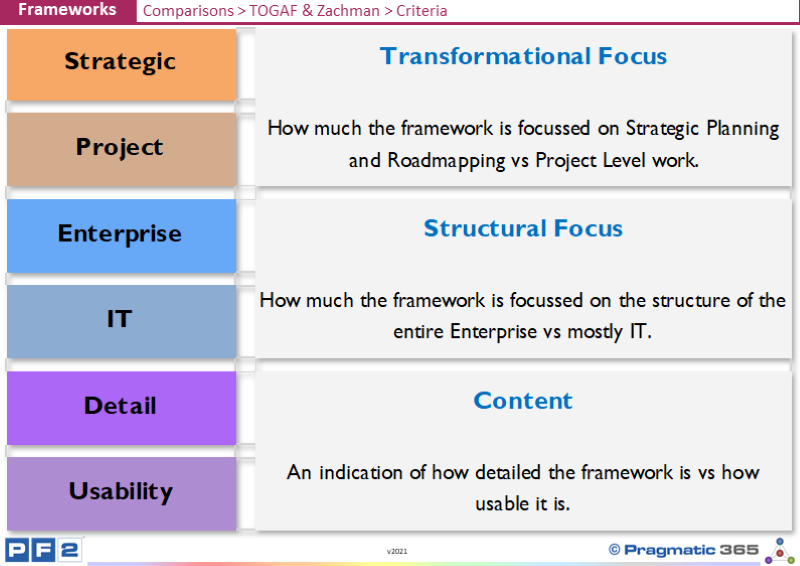 Here we see some criteria that we will use to analyse and compare PEAF, TOGAF and Zachman:
Transformational Focus
¨ Strategic - Frameworks that score highly here are ones whose remit is more towards the Strategising, Roadmapping and governance of Solutioning phases of the Transformation Capability - the parts typically associated with Enterprise Architecture.
| | |
| --- | --- |
| Keypoint | Adopt this component by... |
| Key Framework comparison criteria: Strategic vs Project, Enterprise vs IT, Detail vs Usability. | |
Questions to ponder...
Are these reasonable criteria?
If not, what criteria would you use?
How would you score each Framework?