https://pragmatic365.org/display-show.asp?ComponentNo=000706
Does your Enterprise confuse Strategic Projects and Tactical work? If so, does that cause any problems? What needs to change to alleviate those problems? Can you think of an example of Tactically Important work, done in a Strategic way? https://pragmatic365.org/display-show.asp?ComponentNo=000706 FREE EA Training at www.PEAF.com/Training FREE EA Books at www.PEAF.com/Books #PEAF #PragmaticEA #EntArch #enterprisearchitecture #BizArch #Change #Innovation #BusinessModel #CEO #Strategy #TOGAF #ITgovernance #agileculture #agile #agileleadership #agilemethodology #itstrategy #ceos
Don't confuse the Tactical/Strategic reasons for doing projects, with the Tactical/Strategic methods of executing them. https://pragmatic365.org/display-show.asp?ComponentNo=000706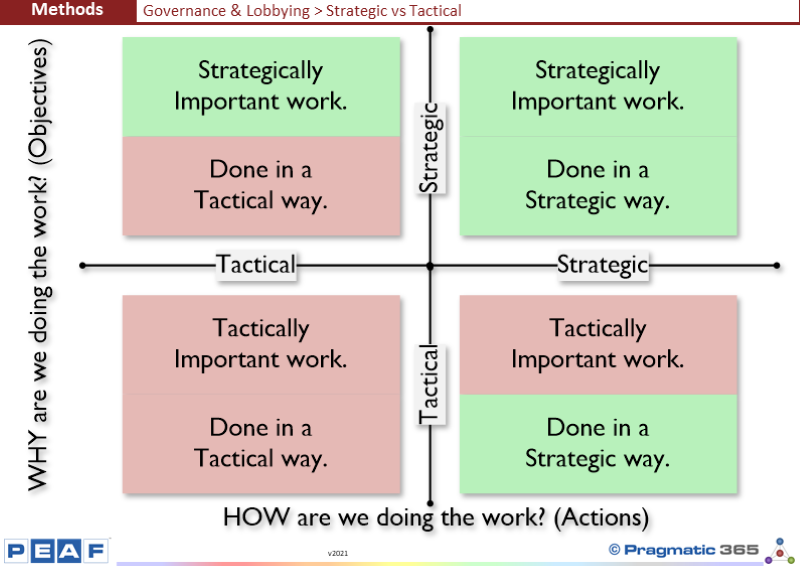 The words Strategic and Tactical are used frequently in Enterprises in relation to Transformation. However, these words are normally ill defined, and as such, different groups tend to use them in different ways, while assuming they are being used in the same way.
"The Business"
"The Business" tends to talk in terms of WHY work is required. Objectives.
| | |
| --- | --- |
| Keypoint | Adopt this component by... |
| Don't confuse the Tactical/Strategic reasons for doing projects, with the Tactical/Strategic methods of executing them. | Management: Ensure everyone in the Enterprise understands the difference between a Strategic/Tactical project, vs a project executed in a Strategic/Tactical way. |
Questions to ponder...
Does your Enterprise confuse Strategic Projects and Tactical work?
If so, does that cause any problems?
What needs to change to alleviate those problems?
Can you think of an example of Tactically Important work, done in a Strategic way?