https://pragmatic365.org/display-show.asp?ComponentNo=000300
How does this discipline map to your Enterprise? Does the discipline your Enterprise uses include all of these required inputs and outputs? If not, what do you need to change? Who is Responsible for making them? And who is Accountable for making sure the changes are made? https://pragmatic365.org/display-show.asp?ComponentNo=000300 FREE EA Training at www.PEAF.com/Training FREE EA Books at www.PEAF.com/Books #PEAF #PragmaticEA #EntArch #enterprisearchitecture #BizArch #Change #Innovation #BusinessModel #CEO #Strategy #TOGAF #ITgovernance #agileculture #agile #agileleadership #agilemethodology #itstrategy #ceos
It is imperative that Governance is balanced by Lobbying. https://pragmatic365.org/display-show.asp?ComponentNo=000300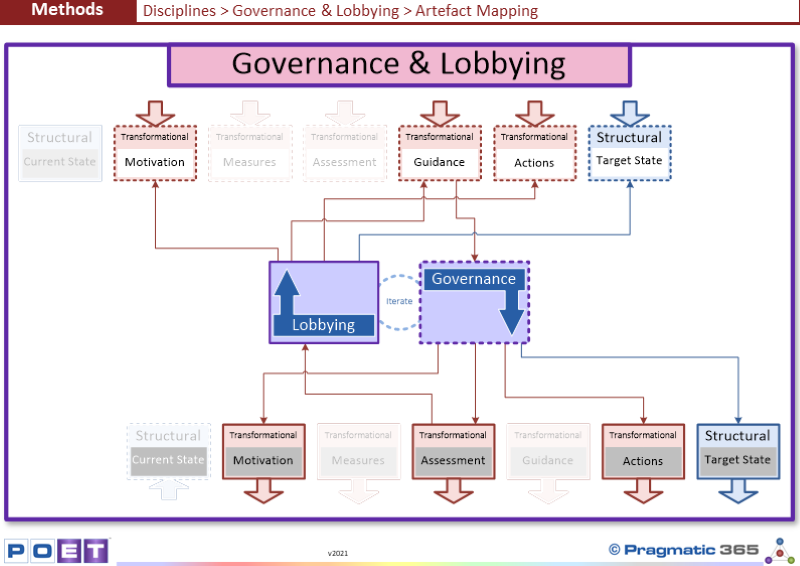 Governance & Lobbying occurs iteratively with Requirements Management and Analysis & Design (Options and Solution) and uses the concept of Transformation Debt™. The dotted line around Governance indicates that Governance is performed on us, by the level above. The Solid line around Lobbying indicates that Lobbying is performed by us, on the level above.
| | |
| --- | --- |
| Keypoint | Adopt this component by... |
| It is imperative that Governance is balanced by Lobbying. | Management: Ensure that Governance is balanced by Lobbying. |
Questions to ponder...
How does this discipline map to your Enterprise?
Does the discipline your Enterprise uses include all of these required inputs and outputs?
If not, what do you need to change? Who is Responsible for making them? And who is Accountable for making sure the changes are made?