https://pragmatic365.org/display-show.asp?ComponentNo=000593
What categories does your Enterprise use to group related principles? Do your categories cover the Methods and Artefacts and Culture and Environment used for Transformation? If not, what problems does that create and what can you do to alleviate them? https://pragmatic365.org/display-show.asp?ComponentNo=000593 FREE EA Training at www.PEAF.com/Training FREE EA Books at www.PEAF.com/Books #PEAF #PragmaticEA #EntArch #enterprisearchitecture #BizArch #Change #Innovation #BusinessModel #CEO #Strategy #TOGAF #ITgovernance #agileculture #agile #agileleadership #agilemethodology #itstrategy #ceos
Don't think in terms of Business and IT principles. Use MAGIC to categorise them. https://pragmatic365.org/display-show.asp?ComponentNo=000593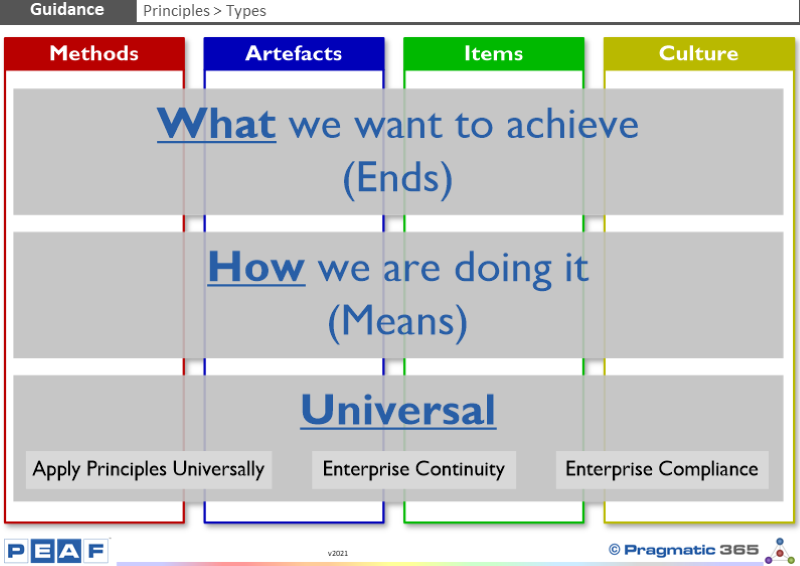 Most people think of principles in terms of Business, Data, Application and Technology – or some other similar categorisation. Pragmatic considers principles from a more Pragmatic perspective. We use MAGIC as a primary categorisation approach. Since the Guidance part of MAGIC is where the Principles sit, Guidance is not listed itself, as a category.
| | |
| --- | --- |
| Keypoint | Adopt this component by... |
| Don't think in terms of Business and IT principles. Use MAGIC to categorise them. | EA Project Team: Categorise Principles using MAGIC. |
Questions to ponder...
What categories does your Enterprise use to group related principles?
Do your categories cover the Methods and Artefacts and Culture and Environment used for Transformation?
If not, what problems does that create and what can you do to alleviate them?