https://pragmatic365.org/display-show.asp?ComponentNo=000676
Does this process match your Enterprises process for Providing EA Education? If not, is their anything missing? How would you define this process? https://pragmatic365.org/display-show.asp?ComponentNo=000676 FREE EA Training at www.PEAF.com/Training FREE EA Books at www.PEAF.com/Books #PEAF #PragmaticEA #EntArch #enterprisearchitecture #BizArch #Change #Innovation #BusinessModel #CEO #Strategy #TOGAF #ITgovernance #agileculture #agile #agileleadership #agilemethodology #itstrategy #ceos
Without continuous education, EA will not be sustainable. https://pragmatic365.org/display-show.asp?ComponentNo=000676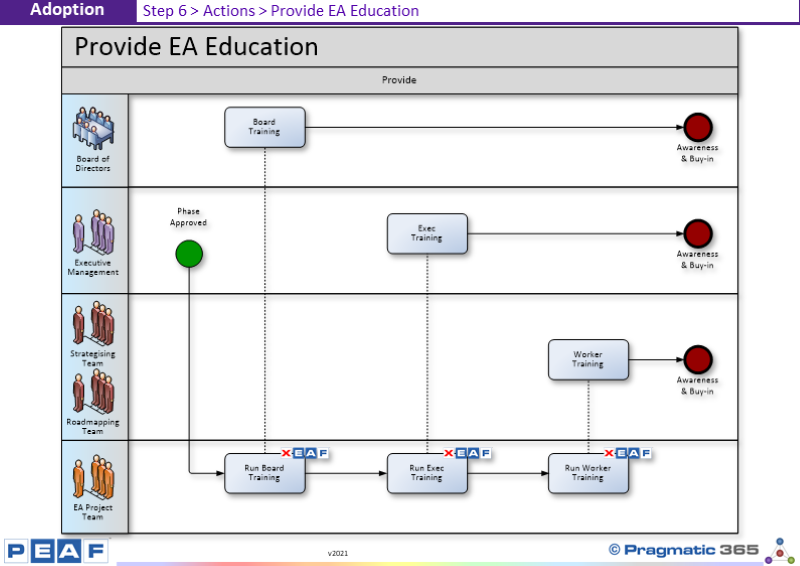 Here training is provided to the people working within the EA Capability, regarding the Enterprise EA framework that has been developed (based on PEAF) by the EA Project Team.
It essentially consists of all of the PEAF materials that have been updated, modified and augmented from PEAF to produce that Enterprises own Enterprise Architecture Framework (XEAF).
| | |
| --- | --- |
| Keypoint | Adopt this component by... |
| Without continuous education, EA will not be sustainable. | EA Project Team: Provide continuous EA education. |
Questions to ponder...
Does this process match your Enterprises process for Providing EA Education?
If not, is their anything missing?
How would you define this process?