https://pragmatic365.org/display-show.asp?ComponentNo=000703
Do people in your Enterprise promote based on success in a previous role, or the capacity to excel in the new role? Can you think of examples where this has happened in the past? Who were they? What was the impact? Why do you think they acted in this way? What needs to change to reduce the likelihood of it happening in the future? Who needs to drive that change? https://pragmatic365.org/display-show.asp?ComponentNo=000703 FREE EA Training at www.PEAF.com/Training FREE EA Books at www.PEAF.com/Books #PEAF #PragmaticEA #EntArch #enterprisearchitecture #BizArch #Change #Innovation #BusinessModel #CEO #Strategy #TOGAF #ITgovernance #agileculture #agile #agileleadership #agilemethodology #itstrategy #ceos
Success should not be promoted. https://pragmatic365.org/display-show.asp?ComponentNo=000703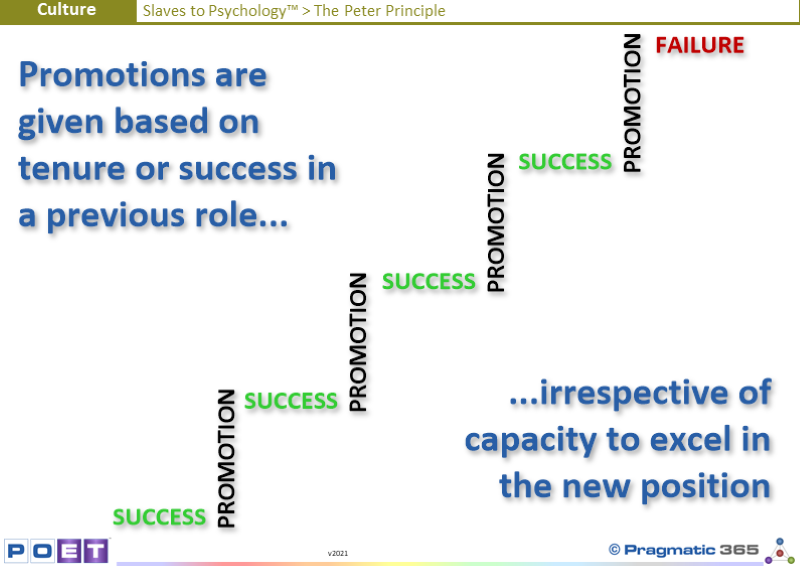 The Peter Principle (developed by Laurence J Peter and published by William Morrow and Company in 1969) says that people in any hierarchy tend to rise to their "level of incompetence", because the skills required to make someone good in one job, are not necessarily the skills required for another job. For example, a good engineer would probably be a bad manager, and a good manager would probably be a bad engineer.
| | |
| --- | --- |
| Keypoint | Adopt this component by... |
| Success should not be promoted. | C-Suite: Mandate that promotions and recruitment should be based on the ability to do the promoted job, not on the success in a previous job. |
Questions to ponder...
Do people in your Enterprise promote based on success in a previous role, or the capacity to excel in the new role?
Can you think of examples where this has happened in the past?
Who were they? What was the impact? Why do you think they acted in this way?
What needs to change to reduce the likelihood of it happening in the future?
Who needs to drive that change?