https://pragmatic365.org/display-show.asp?ComponentNo=000603
Do you agree with these basic requirements for a Type 1 EA? If not, what would you change? https://pragmatic365.org/display-show.asp?ComponentNo=000603 FREE EA Training at www.PEAF.com/Training FREE EA Books at www.PEAF.com/Books #PEAF #PragmaticEA #EntArch #enterprisearchitecture #BizArch #Change #Innovation #BusinessModel #CEO #Strategy #TOGAF #ITgovernance #agileculture #agile #agileleadership #agilemethodology #itstrategy #ceos
Type 1 Enterprise Architects help an Enterprise to increase their EA maturity. https://pragmatic365.org/display-show.asp?ComponentNo=000603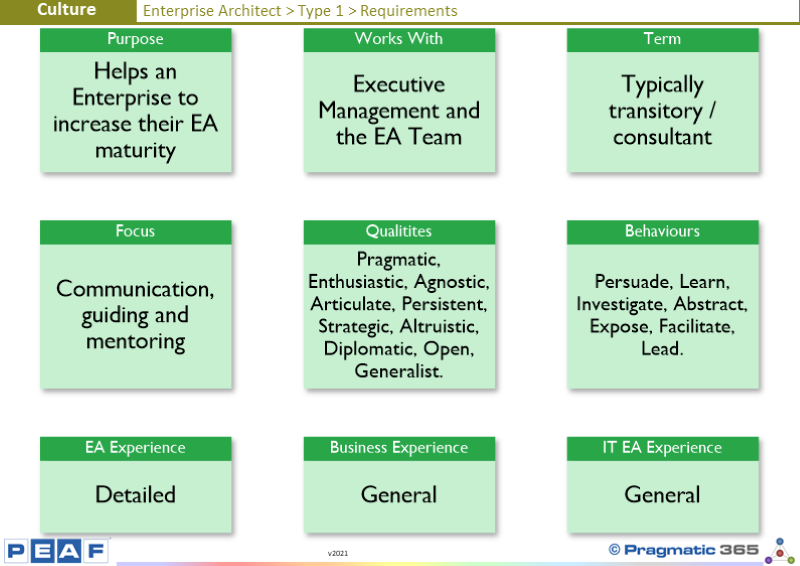 It is possible for one person to fulfil both roles (if given the mandate to do so), however, they are different in some fundamental respects.
The Type 1 Enterprise Architect's main role is not to "do" EA but to increase an Enterprises maturity in its use of EA - to ultimately allow those who "do" EA to be more effective and efficient.
| | |
| --- | --- |
| Keypoint | Adopt this component by... |
| Type 1 Enterprise Architects help an Enterprise to increase their EA maturity. | Management: Ensure everyone in the Enterprise understands what a type 1 EA does. |
Questions to ponder...
Do you agree with these basic requirements for a Type 1 EA?
If not, what would you change?