https://pragmatic365.org/display-show.asp?ComponentNo=000440
Do you agree that "Modell (not draw) the Enterprise" and "Persist Models as Primitives" are the key messages that Zachman training delivers? If not, what other messages do you believe are important? https://pragmatic365.org/display-show.asp?ComponentNo=000440 FREE EA Training at www.PEAF.com/Training FREE EA Books at www.PEAF.com/Books #PEAF #PragmaticEA #EntArch #enterprisearchitecture #BizArch #Change #Innovation #BusinessModel #CEO #Strategy #TOGAF #ITgovernance #agileculture #agile #agileleadership #agilemethodology #itstrategy #ceos
You can't change what you don't understand. You can't understand what you can't see. https://pragmatic365.org/display-show.asp?ComponentNo=000440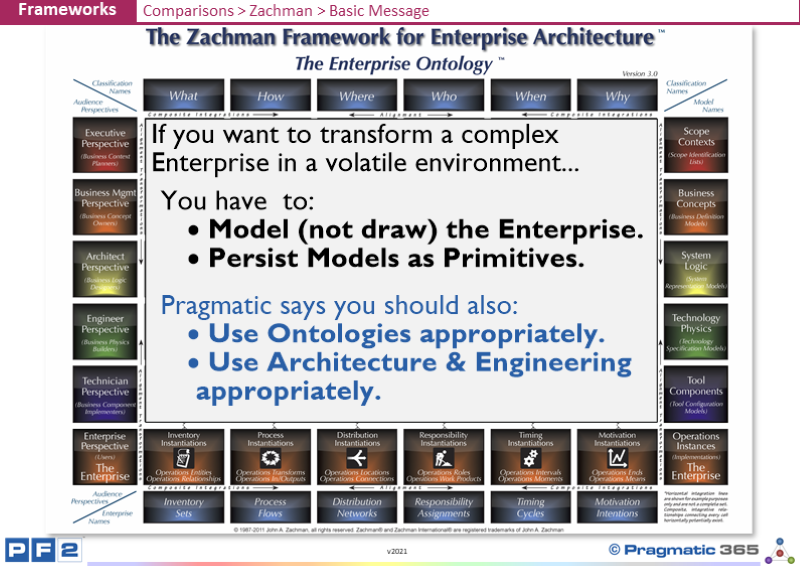 Although Enterprise Architecture is only a part of the entire Transformation Capability, we mention Zachman here because whilst the Zachman Ontology is known as an Enterprise Architecture Ontology, and whilst John A. Zachman is deemed to be "The Father of Enterprise Architecture", it does in fact cover the whole Transformation Capability (from Strategy to Deployment).
Keypoint

Adopt this component by...

You can't change what you don't understand.

You can't understand what you can't see.

Management: Decide to move away from unstructured information, and towards modelling structured primitives.
Questions to ponder...
Do you agree that "Modell (not draw) the Enterprise" and "Persist Models as Primitives" are the key messages that Zachman training delivers?
If not, what other messages do you believe are important?