https://pragmatic365.org/display-show.asp?ComponentNo=000772
How many employees does your Enterprise have? What is the square root of that value? In your enterprise, who are the people that create the most value? Are the other people somehow not useful? What puts some people in one group or the other? https://pragmatic365.org/display-show.asp?ComponentNo=000772 FREE EA Training at www.PEAF.com/Training FREE EA Books at www.PEAF.com/Books #PEAF #PragmaticEA #EntArch #enterprisearchitecture #BizArch #Change #Innovation #BusinessModel #CEO #Strategy #TOGAF #ITgovernance #agileculture #agile #agileleadership #agilemethodology #itstrategy #ceos
Competence grows linearly. Incompetence grows exponentially. https://pragmatic365.org/display-show.asp?ComponentNo=000772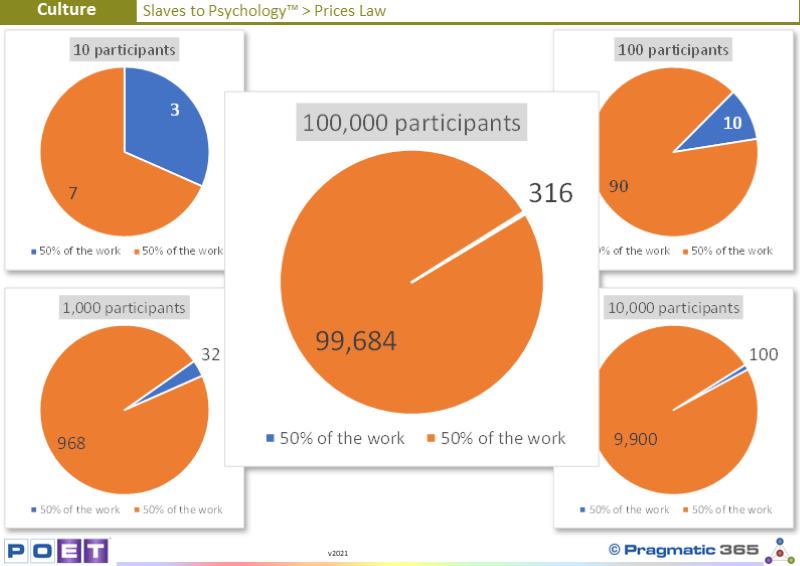 Price's law (named after Derek J. de Solla Price, England (1922-1983), referred to the relationship between the literature on a subject and the number of authors in the subject area. He found/stated that half of the publications come from the square root of all contributors. This phenomenon has since been shown to be much more ubiquitous, in that it applies to just about any endeavour, meaning that more generally 50% of the participants in any endeavour are made up of the square root of the total number of participants.
Keypoint

Adopt this component by...

Competence grows linearly.



Incompetence grows exponentially.

C-Suite: When assessing value, bear in mind Price's Law.
Questions to ponder...
How many employees does your Enterprise have?
What is the square root of that value?
In your enterprise, who are the people that create the most value?
Are the other people somehow not useful?
What puts some people in one group or the other?