https://pragmatic365.org/display-show.asp?ComponentNo=000512
Which type of course would you choose? Do you think a better understanding could be gained from an Instructor led course? What are the benefits of each type of course? https://pragmatic365.org/display-show.asp?ComponentNo=000512 FREE EA Training at www.PEAF.com/Training FREE EA Books at www.PEAF.com/Books #PEAF #PragmaticEA #EntArch #enterprisearchitecture #BizArch #Change #Innovation #BusinessModel #CEO #Strategy #TOGAF #ITgovernance #agileculture #agile #agileleadership #agilemethodology #itstrategy #ceos
Access to the Pragmatic Publishing Platform is granted by graduating from an Instructor led course. https://pragmatic365.org/display-show.asp?ComponentNo=000512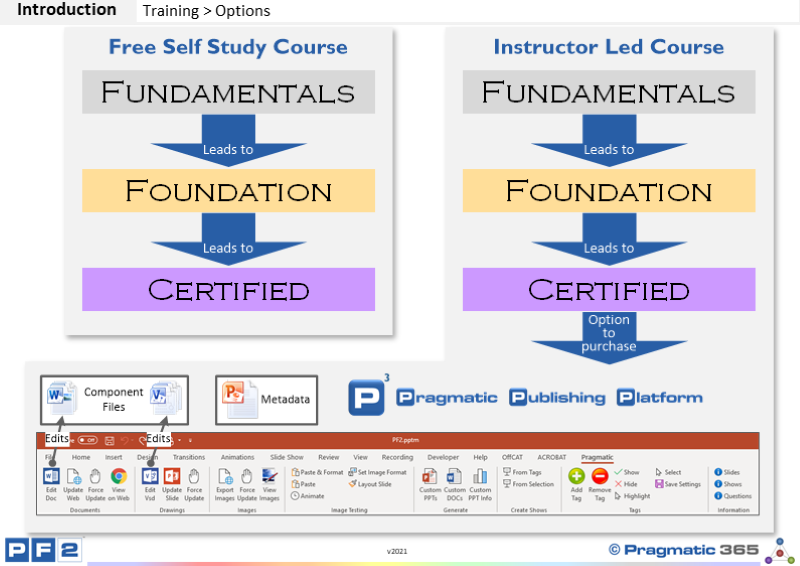 The progression from Fundamentals through Foundation to Certified is the same for people opting for Self Study or Instructor Led training.
In addition, Enterprises that have completed the Instructor Led course are also able to buy (as an option) the Pragmatic Publishing Platform (P3), to allow them to create and modify Frameworks in an efficient and seamless way.
| | |
| --- | --- |
| Keypoint | Adopt this component by... |
| Access to the Pragmatic Publishing Platform is granted by graduating from an Instructor led course. | EA Project Team: Attend Instructor led training, to gain access to the Publishing Platform and all component files.files. |
Questions to ponder...
Which type of course would you choose?
Do you think a better understanding could be gained from an Instructor led course?
What are the benefits of each type of course?