https://pragmatic365.org/display-show.asp?ComponentNo=000526
Does the rate of change on the outside of your Enterprise exceeds the rate of change of your Enterprise today? Next year? In five years time? Is your Enterprise more or less adaptable than your competitors, today? Next year? In five years time? What new thinking is your Enterprise employing today? Next year? In five years time? If you ignore these sage words, what do you think your Enterprise will look like in 5 years? https://pragmatic365.org/display-show.asp?ComponentNo=000526 FREE EA Training at www.PEAF.com/Training FREE EA Books at www.PEAF.com/Books #PEAF #PragmaticEA #EntArch #enterprisearchitecture #BizArch #Change #Innovation #BusinessModel #CEO #Strategy #TOGAF #ITgovernance #agileculture #agile #agileleadership #agilemethodology #itstrategy #ceos
Jack Welch, Darwin and Einstein do have a point! https://pragmatic365.org/display-show.asp?ComponentNo=000526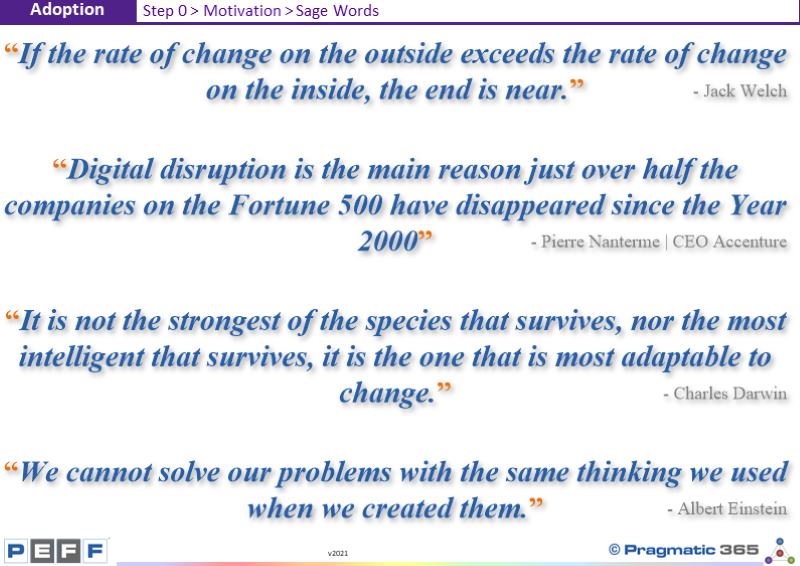 We all spend time looking forward, wanting new things. We think that the solutions to all problems come from thinking of them. But sometimes itís a good idea to look to the past to see what we can learn. Sometimes we can learn more about our problems, sometimes we can learn more about solutions.
These words are very old but perfectly embody both the problem and solution with respect to the Transformation Capability of many Enterprises.
| | |
| --- | --- |
| Keypoint | Adopt this component by... |
| Jack Welch, Darwin and Einstein do have a point! | C-Suite: Agree that Operations can only flourish if Transformation enables it. |
Questions to ponder...
Does the rate of change on the outside of your Enterprise exceeds the rate of change of your Enterprise today? Next year? In five years time?
Is your Enterprise more or less adaptable than your competitors, today? Next year? In five years time?
What new thinking is your Enterprise employing today? Next year? In five years time?
If you ignore these sage words, what do you think your Enterprise will look like in 5 years?