https://pragmatic365.org/display-show.asp?ComponentNo=000549
Do you agree with this description of the Purpose of EA? If not, why not? What would you add? Take away? Change? https://pragmatic365.org/display-show.asp?ComponentNo=000549 FREE EA Training at www.PEAF.com/Training FREE EA Books at www.PEAF.com/Books #PEAF #PragmaticEA #EntArch #enterprisearchitecture #BizArch #Change #Innovation #BusinessModel #CEO #Strategy #TOGAF #ITgovernance #agileculture #agile #agileleadership #agilemethodology #itstrategy #ceos
Arranging the words of 300+ we get a description of the Why (purpose), How (by) and What (using) of EA. https://pragmatic365.org/display-show.asp?ComponentNo=000549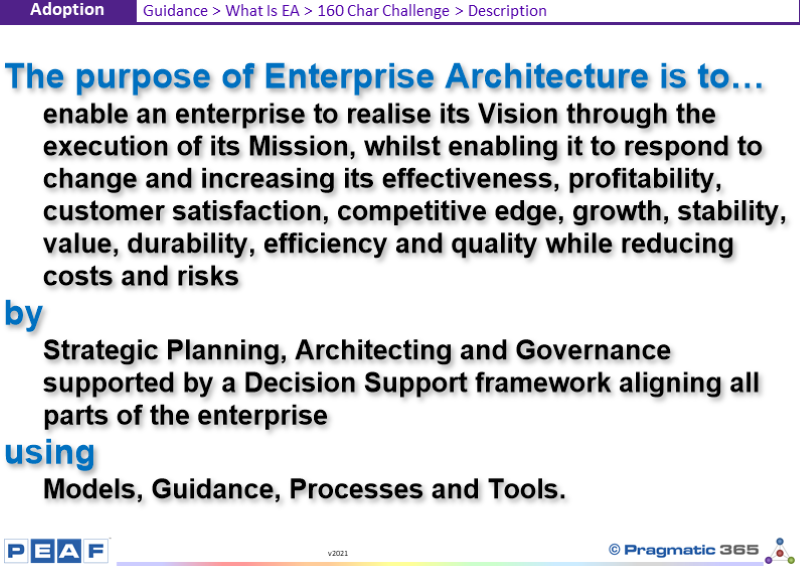 If we take the output of the analysis and put it into a sentence we get this. Interestingly this seems to me to be a pretty reasonable definition of Enterprise Architecture. It closely matches the one PEAF defines, even though no one actually made the entire statement.
| | |
| --- | --- |
| Keypoint | Adopt this component by... |
| Arranging the words of 300+ we get a description of the Why (purpose), How (by) and What (using) of EA. | |
Questions to ponder...
Do you agree with this description of the Purpose of EA?
If not, why not?
What would you add? Take away? Change?