https://pragmatic365.org/display-show.asp?ComponentNo=000485
How do you define a framework? What kinds of things would you put in a Framework? What Frameworks do you know and what types of things do they contain? https://pragmatic365.org/display-show.asp?ComponentNo=000485 FREE EA Training at www.PEAF.com/Training FREE EA Books at www.PEAF.com/Books #PEAF #PragmaticEA #EntArch #enterprisearchitecture #BizArch #Change #Innovation #BusinessModel #CEO #Strategy #TOGAF #ITgovernance #agileculture #agile #agileleadership #agilemethodology #itstrategy #ceos
A Framework is an expression of Best Practice comprising information in at least one area (Methods, Artefacts, Guidance, Items, Culture) and optionally information regarding its Adoption. https://pragmatic365.org/display-show.asp?ComponentNo=000485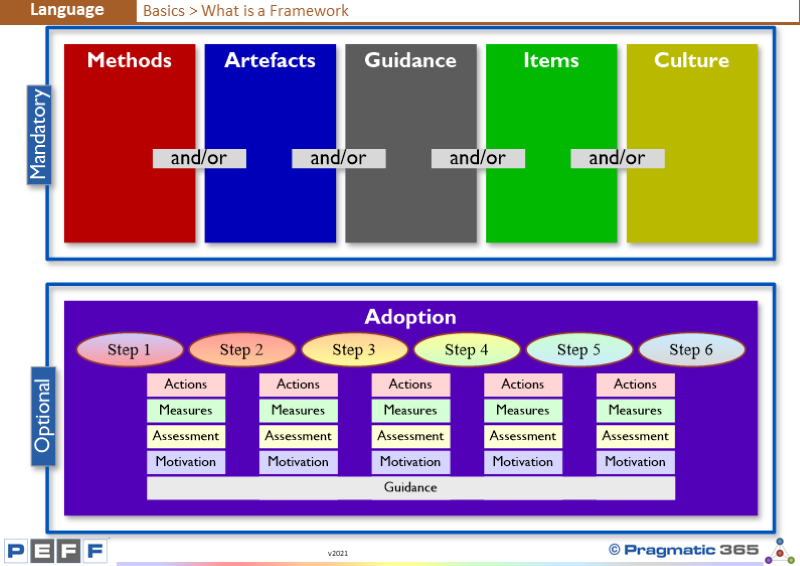 What is a Framework?
This is a common question and one that has almost as many answers (if not more!) as the eternal "What is EA?" question.
All Frameworks exist to improve the way something is done (i.e. to increase the effectiveness and efficiency and to reduce the risk of failure). In many respects they are an expression of "Best Practice". They contain different types of things depending upon the purpose of the framework - its domain.
| | |
| --- | --- |
| Keypoint | Adopt this component by... |
| A Framework is an expression of Best Practice comprising information in at least one area (Methods, Artefacts, Guidance, Items, Culture) and optionally information regarding its Adoption. | Enterprise Architect: Categorise the content of any Framework you use, in terms of Context + MAGIC + Adoption. |
Questions to ponder...
How do you define a framework?
What kinds of things would you put in a Framework?
What Frameworks do you know and what types of things do they contain?