https://pragmatic365.org/display-show.asp?ComponentNo=000402
Do people in your Enterprise know "the cost of everything and value of nothing"? Do people in your Enterprise only see obvious value and miss hidden value? Can you think of examples where this has happened in the past? Who were they? What was the impact? Why do you think they acted in this way? What needs to change to reduce the likelihood of it happening in the future? Who needs to drive that change? https://pragmatic365.org/display-show.asp?ComponentNo=000402 FREE EA Training at www.PEAF.com/Training FREE EA Books at www.PEAF.com/Books #PEAF #PragmaticEA #EntArch #enterprisearchitecture #BizArch #Change #Innovation #BusinessModel #CEO #Strategy #TOGAF #ITgovernance #agileculture #agile #agileleadership #agilemethodology #itstrategy #ceos
True value is not measured by the numbers of Clicks or Likes. https://pragmatic365.org/display-show.asp?ComponentNo=000402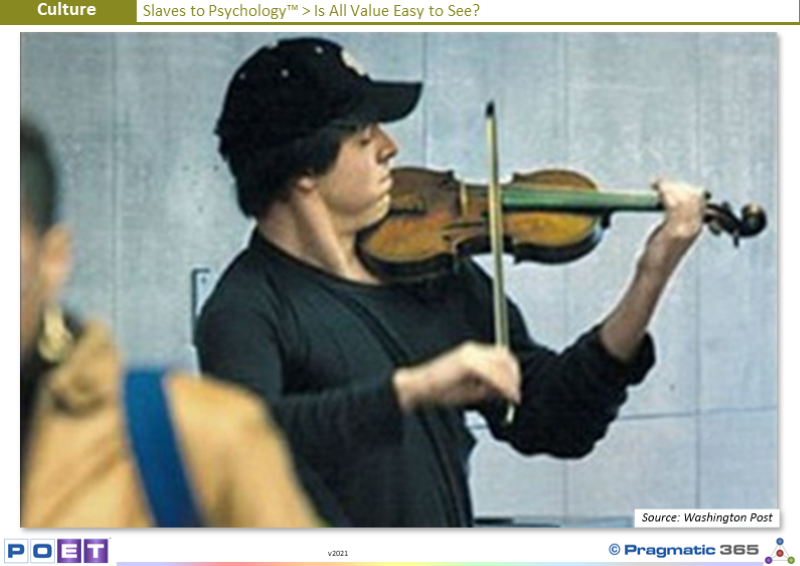 Violinist in the Metro Station
Can you see the value when there is no price tag? In 2007 world famous violinist Joshua Bell posed as a street musician in a Washington D.C. metro station to see how many people would stop and listen. Despite the fact that he was playing a $3.5 million handcrafted violin and had just sold out a concert in Boston where ticket prices averaged $100 each, very few people stopped to appreciate his beautiful performance. He made a measly $32 that day.
| | |
| --- | --- |
| Keypoint | Adopt this component by... |
| True value is not measured by the numbers of Clicks or Likes. | C-Suite: Mandate that people Invest time to see the true value of things. |
Questions to ponder...
Do people in your Enterprise know "the cost of everything and value of nothing"?
Do people in your Enterprise only see obvious value and miss hidden value?
Can you think of examples where this has happened in the past?
Who were they? What was the impact? Why do you think they acted in this way?
What needs to change to reduce the likelihood of it happening in the future?
Who needs to drive that change?