https://pragmatic365.org/display-show.asp?ComponentNo=000413
Do you agree with these fundamental levels? If not, what would you change and why? What fundamental levels does your Enterprise define? If it does not, does that cause any problems or issues? If so, how will you solve them? https://pragmatic365.org/display-show.asp?ComponentNo=000413 FREE EA Training at www.PEAF.com/Training FREE EA Books at www.PEAF.com/Books #PEAF #PragmaticEA #EntArch #enterprisearchitecture #BizArch #Change #Innovation #BusinessModel #CEO #Strategy #TOGAF #ITgovernance #agileculture #agile #agileleadership #agilemethodology #itstrategy #ceos
The seven levels of transformation (Enterprise Context, Contextual, Conceptual, Logical, Physical, Operational, Physical Stuff) sit in between the seven phases of Transformation. https://pragmatic365.org/display-show.asp?ComponentNo=000413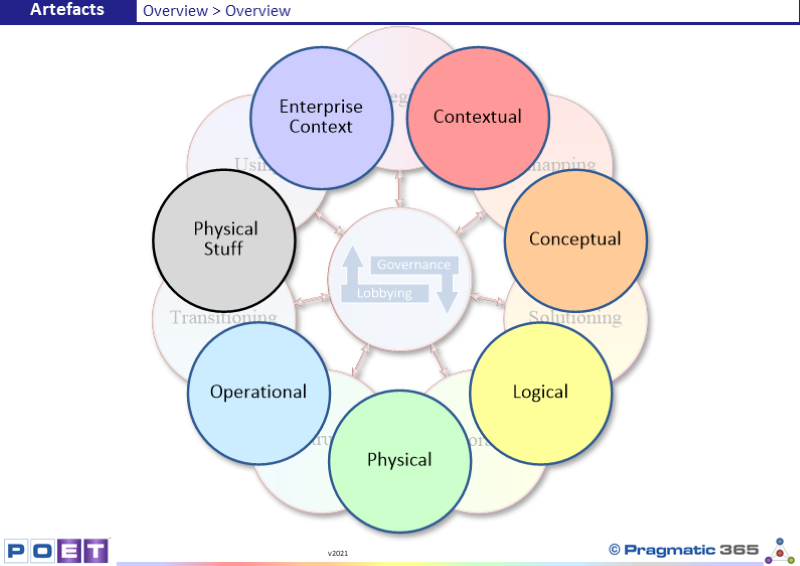 These are the fundamental levels that artefacts can exist at, which sit between the fundamental phases of transformation.
Starting at the Enterprise Context, the information at each level is transformed and becomes closer to the physical world.
¨ Enterprise Context - A representation of the physical world outside out Enterprise.
| | |
| --- | --- |
| Keypoint | Adopt this component by... |
| The seven levels of transformation (Enterprise Context, Contextual, Conceptual, Logical, Physical, Operational, Physical Stuff) sit in between the seven phases of Transformation. | Management: Adopt the seven levels of transformation |
Questions to ponder...
Do you agree with these fundamental levels?
If not, what would you change and why?
What fundamental levels does your Enterprise define?
If it does not, does that cause any problems or issues?
If so, how will you solve them?