https://pragmatic365.org/display-show.asp?ComponentNo=000448
What Hybrid Meta-model are you currently using? Is this a good starting point for a complete and Pragmatic meta-model? Who could create such a hybrid meta-model? How would you implement such a hybrid meta-model? How long would it take to create? Are there any tools that can implement and utilise Hybrid Meta-models? https://pragmatic365.org/display-show.asp?ComponentNo=000448 FREE EA Training at www.PEAF.com/Training FREE EA Books at www.PEAF.com/Books #PEAF #PragmaticEA #EntArch #enterprisearchitecture #BizArch #Change #Innovation #BusinessModel #CEO #Strategy #TOGAF #ITgovernance #agileculture #agile #agileleadership #agilemethodology #itstrategy #ceos
There is no single metamodel, that covers all the information required for Transformation. https://pragmatic365.org/display-show.asp?ComponentNo=000448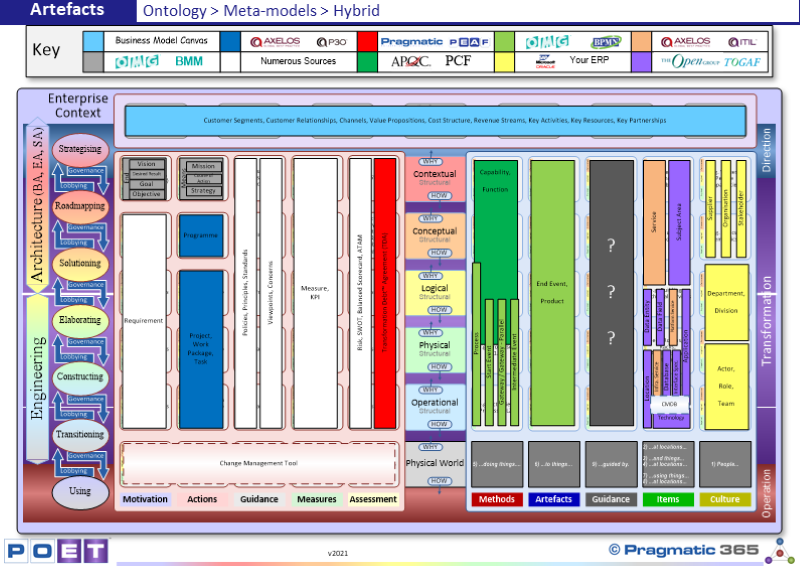 If we intend to model all the information we have identified, we will need a Metamodel, aka a list of Entities and their Relationships of the things that we will model. It would be nice to choose one, however in reality, one Metamodel to cover the entire Transformation Capability does not exist and so a hybrid approach is needed.
| | |
| --- | --- |
| Keypoint | Adopt this component by... |
| There is no single metamodel, that covers all the information required for Transformation. | EA Project Team: Develop a Hybrid Metamodel for Enterprise Architecture and Engineering modelling. |
Questions to ponder...
What Hybrid Meta-model are you currently using?
Is this a good starting point for a complete and Pragmatic meta-model?
Who could create such a hybrid meta-model?
How would you implement such a hybrid meta-model?
How long would it take to create?
Are there any tools that can implement and utilise Hybrid Meta-models?