https://pragmatic365.org/display-show.asp?ComponentNo=000543
If you cannot allocate the "EA" moniker to X, Y or Z, what box would you draw on the diagram to represent it? What names do you use to refer to X, Y and Z? Does everyone within your Enterprise agree? If not, what needs to be done? https://pragmatic365.org/display-show.asp?ComponentNo=000543 FREE EA Training at www.PEAF.com/Training FREE EA Books at www.PEAF.com/Books #PEAF #PragmaticEA #EntArch #enterprisearchitecture #BizArch #Change #Innovation #BusinessModel #CEO #Strategy #TOGAF #ITgovernance #agileculture #agile #agileleadership #agilemethodology #itstrategy #ceos
X Architecture, is the fundamentally important structure of X, set in the context of things outside of X, that affect it, or are affected by it. https://pragmatic365.org/display-show.asp?ComponentNo=000543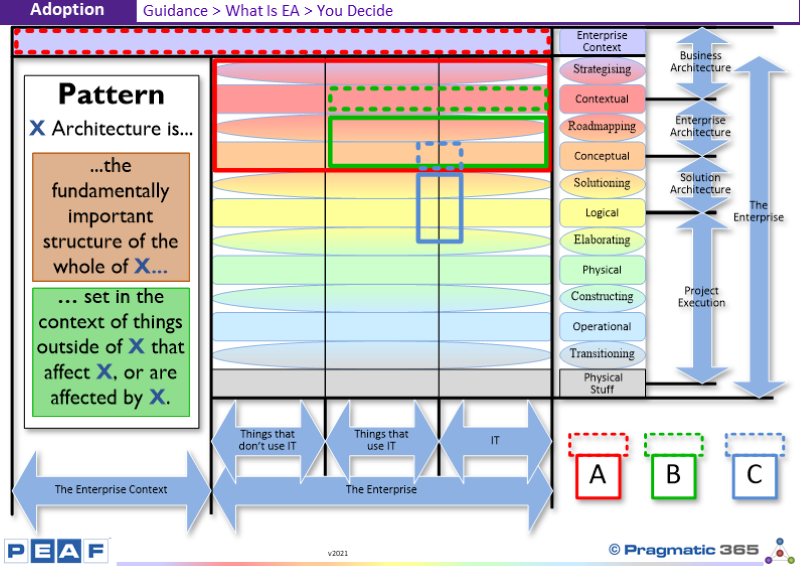 To borrow from the introduction to The Restaurant at the End of the Universe (a book by Douglas Adams)…
There is a theory which states that if ever anyone discovers exactly what EA is for and why it is here, it will instantly disappear and be replaced by something even more bizarre and inexplicable.
| | |
| --- | --- |
| Keypoint | Adopt this component by... |
| X Architecture, is the fundamentally important structure of X, set in the context of things outside of X, that affect it, or are affected by it. | C-Suite: Understand fundamentally what the Architecture of anything is. |
Questions to ponder...
If you cannot allocate the "EA" moniker to X, Y or Z, what box would you draw on the diagram to represent it?
What names do you use to refer to X, Y and Z?
Does everyone within your Enterprise agree? If not, what needs to be done?