https://pragmatic365.org/display-show.asp?ComponentNo=000394
What are the biggest "disasters" your Enterprise has faced? Did Culture play a part, and if so, what part? Were lessons learned or not? What are the top five Cultural problems facing your Enterprise? What would your Enterprise look and feel like if those problems were solved? What does your Enterprise do to improve Culture? Are they succeeding? Are they doing enough? https://pragmatic365.org/display-show.asp?ComponentNo=000394 FREE EA Training at www.PEAF.com/Training FREE EA Books at www.PEAF.com/Books #PEAF #PragmaticEA #EntArch #enterprisearchitecture #BizArch #Change #Innovation #BusinessModel #CEO #Strategy #TOGAF #ITgovernance #agileculture #agile #agileleadership #agilemethodology #itstrategy #ceos
Bad Culture knows no bounds. It can destroy lives. And Enterprises. https://pragmatic365.org/display-show.asp?ComponentNo=000394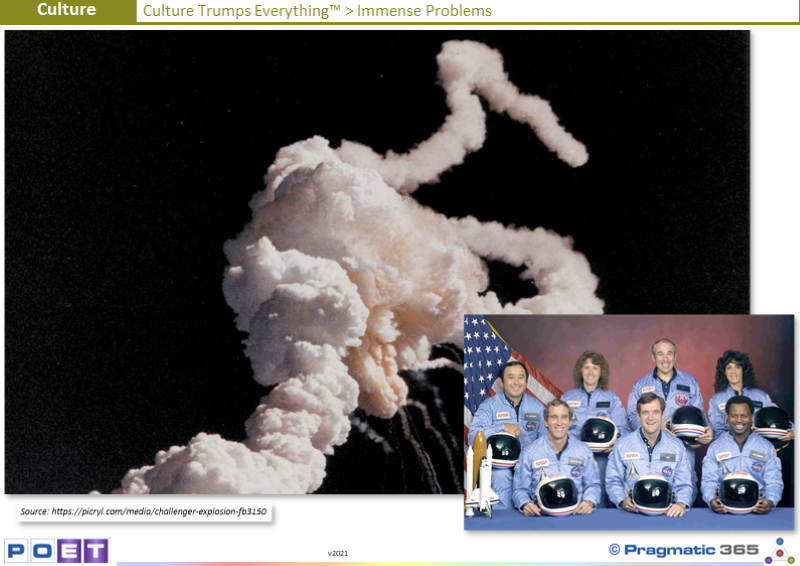 Never underestimate the kind of things that a bad culture can create.
You may think there is a limit to bad culture - a point at which when the potential effects could be so catastrophic that people would pull back, but the space shuttle Challenger disaster of January 28, 1986 proves to us that the lives of seven people were naught compared with the power of culture.
Keypoint

Adopt this component by...

Bad Culture knows no bounds.

It can destroy lives.

And Enterprises.

C-Suite: Do not underestimate the effects of bad culture.
Questions to ponder...
What are the biggest "disasters" your Enterprise has faced?
Did Culture play a part, and if so, what part?
Were lessons learned or not?
What are the top five Cultural problems facing your Enterprise?
What would your Enterprise look and feel like if those problems were solved?
What does your Enterprise do to improve Culture?
Are they succeeding? Are they doing enough?