https://pragmatic365.org/display-show.asp?ComponentNo=000559
Are these strategies defined in your Enterprises Strategy? If not, do you think they should? Are there others that you would add? https://pragmatic365.org/display-show.asp?ComponentNo=000559 FREE EA Training at www.PEAF.com/Training FREE EA Books at www.PEAF.com/Books #PEAF #PragmaticEA #EntArch #enterprisearchitecture #BizArch #Change #Innovation #BusinessModel #CEO #Strategy #TOGAF #ITgovernance #agileculture #agile #agileleadership #agilemethodology #itstrategy #ceos
EA Strategies must be born from the Enterprise Strategy. https://pragmatic365.org/display-show.asp?ComponentNo=000559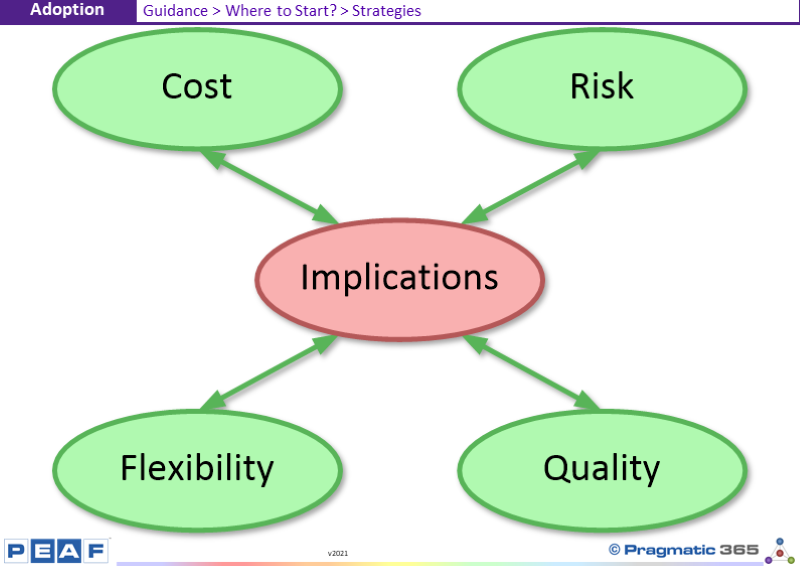 The strategies are inherently related. If too much emphasis is placed on one, things can begin to breakdown and a downward spiral of negative feedback can begin. The key is to manage each of these competing strategies and to make sound informed decisions having considered the impact and implications.
In support of the EA goals, the following Strategies are identified:
| | |
| --- | --- |
| Keypoint | Adopt this component by... |
| EA Strategies must be born from the Enterprise Strategy. | C-Suite: Add the EA Strategies: By Supporting the Management of the Cost, Risk, Flexibility and Quality of Transformation, to the Enterprise Strategy. |
Questions to ponder...
Are these strategies defined in your Enterprises Strategy?
If not, do you think they should?
Are there others that you would add?