https://pragmatic365.org/display-show.asp?ComponentNo=000634
Do you agree with these high level X Requirements? If not, which ones would you add, change, remove? How would you weight them in terms of importance? https://pragmatic365.org/display-show.asp?ComponentNo=000634 FREE EA Training at www.PEAF.com/Training FREE EA Books at www.PEAF.com/Books #PEAF #PragmaticEA #EntArch #enterprisearchitecture #BizArch #Change #Innovation #BusinessModel #CEO #Strategy #TOGAF #ITgovernance #agileculture #agile #agileleadership #agilemethodology #itstrategy #ceos
X-Requirements are the key when assessing EA Modelling Tools. https://pragmatic365.org/display-show.asp?ComponentNo=000634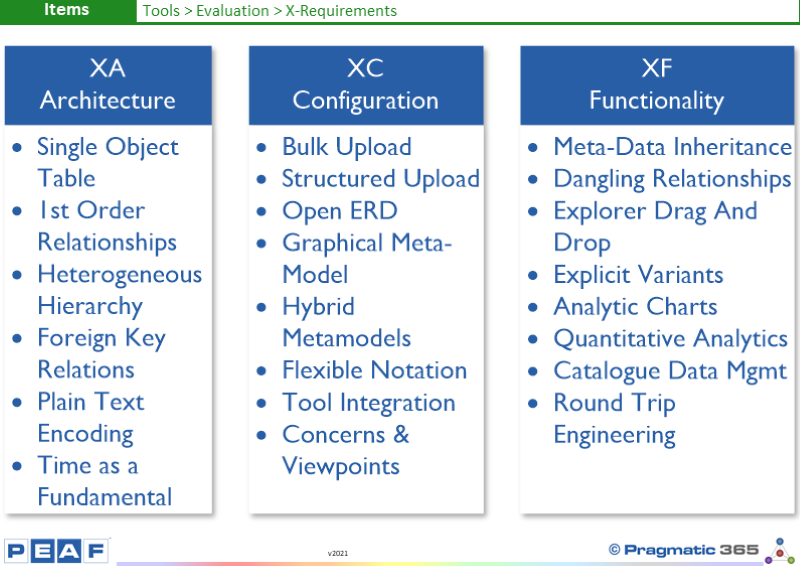 The X-Requirements are fundamental core requirements, that Enterprises should consider applying to Tool Vendors, when evaluating EA Modelling Tools. These are the single most important features that, if not present, will seriously limit your use of a tool. The other detailed Tool Requirements documented elsewhere in PEAF are useful also, however, these much smaller set of X-Requirements can be used as critical gating criteria, to reduce a large number of Vendors down to a smaller set, for detailed evaluation.
| | |
| --- | --- |
| Keypoint | Adopt this component by... |
| X-Requirements are the key when assessing EA Modelling Tools. | EA Project Team: Use the X-Requirements as the key gating criteria when assessing EA Modelling Tools. |
Questions to ponder...
Do you agree with these high level X Requirements?
If not, which ones would you add, change, remove?
How would you weight them in terms of importance?