https://pragmatic365.org/display-show.asp?ComponentNo=000717
Which consultancies do you know of, which help you improve HOW you do Transformation vs those that just want to help you DO Transformation? How much could you reduce your annual Transformation budget by, if you matured HOW you do Transformation? https://pragmatic365.org/display-show.asp?ComponentNo=000717 FREE EA Training at www.PEAF.com/Training FREE EA Books at www.PEAF.com/Books #PEAF #PragmaticEA #EntArch #enterprisearchitecture #BizArch #Change #Innovation #BusinessModel #CEO #Strategy #TOGAF #ITgovernance #agileculture #agile #agileleadership #agilemethodology #itstrategy #ceos
Most consultancies only want to sell you fish. Pragmatic will teach you how to fish. https://pragmatic365.org/display-show.asp?ComponentNo=000717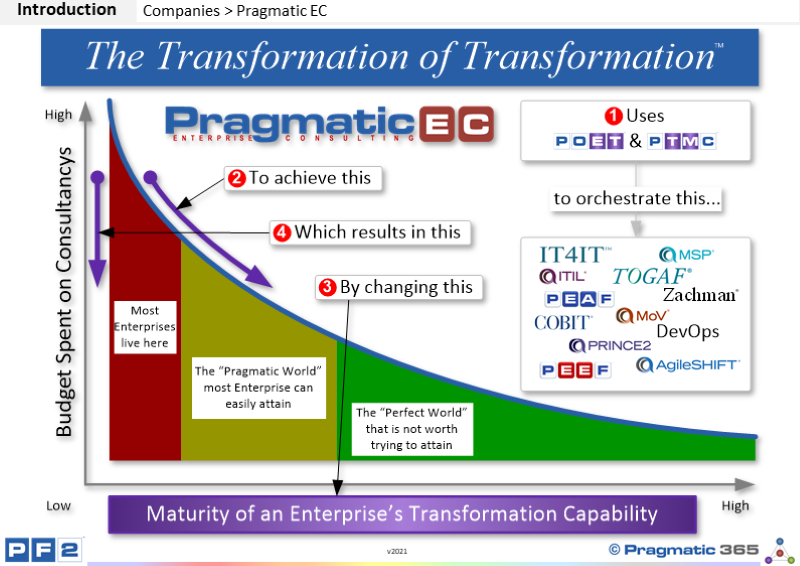 Most consultancies won't tell you what Pragmatic will tell you.
Most consultancy's revenue streams, are inversely proportional to how mature their client's Transformation Capability is.  Most consultancies are therefore motivated, NOT to mature an Enterprise's Transformation Capability. The more immature an Enterprise's Transformation Capability is, the more money the consultancy is likely to make, in fixing all the problems that will arise. Have you ever wondered why the "70% of all project fail" statistic hasn't changed for 40 years? Now you know!
Keypoint

Adopt this component by...

Most consultancies only want to sell you fish.

Pragmatic will teach you how to fish.

Management: Engage Pragmatic EC to help you reign in the budget spent on consultancies and therefore Transformation.
Questions to ponder...
Which consultancies do you know of, which help you improve HOW you do Transformation vs those that just want to help you DO Transformation?
How much could you reduce your annual Transformation budget by, if you matured HOW you do Transformation?