https://pragmatic365.org/display-show.asp?ComponentNo=000704
Are there any Sociopaths in your Enterprise? Have you seen any sociopathic traits? Who were they? What was the impact? Why do you think they acted in this way? What needs to change to reduce the likelihood of it happening in the future? Who needs to drive that change? https://pragmatic365.org/display-show.asp?ComponentNo=000704 FREE EA Training at www.PEAF.com/Training FREE EA Books at www.PEAF.com/Books #PEAF #PragmaticEA #EntArch #enterprisearchitecture #BizArch #Change #Innovation #BusinessModel #CEO #Strategy #TOGAF #ITgovernance #agileculture #agile #agileleadership #agilemethodology #itstrategy #ceos
'The trouble with Sociopaths, is that they are very, very nice people!' - Kevin Lee Smith https://pragmatic365.org/display-show.asp?ComponentNo=000704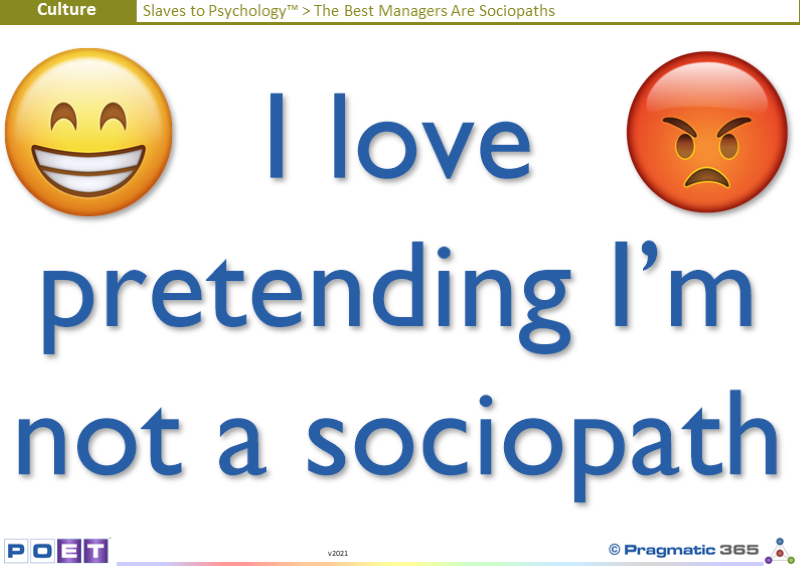 NOTE – This "problem" with culture is linked to Style Over Substance and the Dunning-Kruger Effect defined elsewhere.
If you ask people "What are the skills are required for someone to be an effective and efficient manager?" you would get a list something like this:
· Good Communication Skills.
Keypoint

Adopt this component by...

'The trouble with Sociopaths, is that they are very, very nice people!'

- Kevin Lee Smith

C-Suite: Recognise that the traits required to gain promotion, are no necessarily the traits required to execute the job.
Questions to ponder...
Are there any Sociopaths in your Enterprise?
Have you seen any sociopathic traits?
Who were they? What was the impact? Why do you think they acted in this way?
What needs to change to reduce the likelihood of it happening in the future?
Who needs to drive that change?