https://pragmatic365.org/display-show.asp?ComponentNo=000697
Do these models and relationships agree with those used by your Enterprise? What does your Enterprise use to express each of these models? Is it clear to the people in your Enterprise, what these models are and the dependencies between them? https://pragmatic365.org/display-show.asp?ComponentNo=000697 FREE EA Training at www.PEAF.com/Training FREE EA Books at www.PEAF.com/Books #PEAF #PragmaticEA #EntArch #enterprisearchitecture #BizArch #Change #Innovation #BusinessModel #CEO #Strategy #TOGAF #ITgovernance #agileculture #agile #agileleadership #agilemethodology #itstrategy #ceos
Make sure you have the correct input information for the model you are building. https://pragmatic365.org/display-show.asp?ComponentNo=000697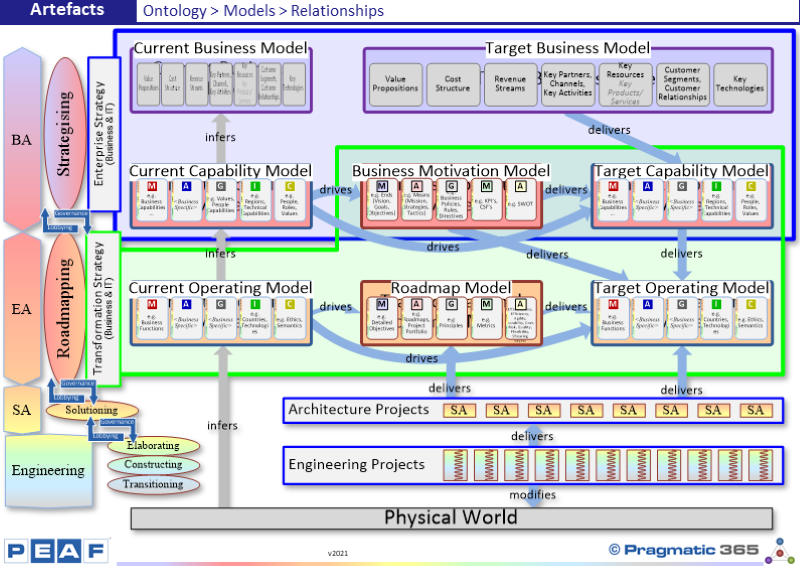 Here we see an outline of the Artefacts required to perform the Roadmapping phase that constitutes "doing" Enterprise Architecture and forms the basis for a project to perform the required work. The information flows into the portfolio of projects that effect the change defined by the roadmap. We also include the Business, Capability and Motivation model work (Business Architecture) because if this work is not done to the required standard, and/or its output is no represented and accessible in a reasonable way, the EA work is likely to produce far from optimum results in the best case, and catastrophic results in the worst case.
| | |
| --- | --- |
| Keypoint | Adopt this component by... |
| Make sure you have the correct input information for the model you are building. | Management: Ensure EAs have the information required to do their job. |
Questions to ponder...
Do these models and relationships agree with those used by your Enterprise?
What does your Enterprise use to express each of these models?
Is it clear to the people in your Enterprise, what these models are and the dependencies between them?