https://pragmatic365.org/display-show.asp?ComponentNo=000552
What Logical Model for Enterprise Architecture does your Enterprise use? If it doesn't use one, do you think it would be beneficial if it did? Does your Enterprise think strategically and act tactically or just act tactically (with respect to improving How it "does" EA)? What initiatives has your Enterprise undertaken to improve How EA is effected? What did your Enterprise use to ensure that those initiatives fitted into a holistic and coherent strategy? https://pragmatic365.org/display-show.asp?ComponentNo=000552 FREE EA Training at www.PEAF.com/Training FREE EA Books at www.PEAF.com/Books #PEAF #PragmaticEA #EntArch #enterprisearchitecture #BizArch #Change #Innovation #BusinessModel #CEO #Strategy #TOGAF #ITgovernance #agileculture #agile #agileleadership #agilemethodology #itstrategy #ceos
PEAF allows an Enterprise to Tactically improve parts of EA, in the context of the Strategic whole. https://pragmatic365.org/display-show.asp?ComponentNo=000552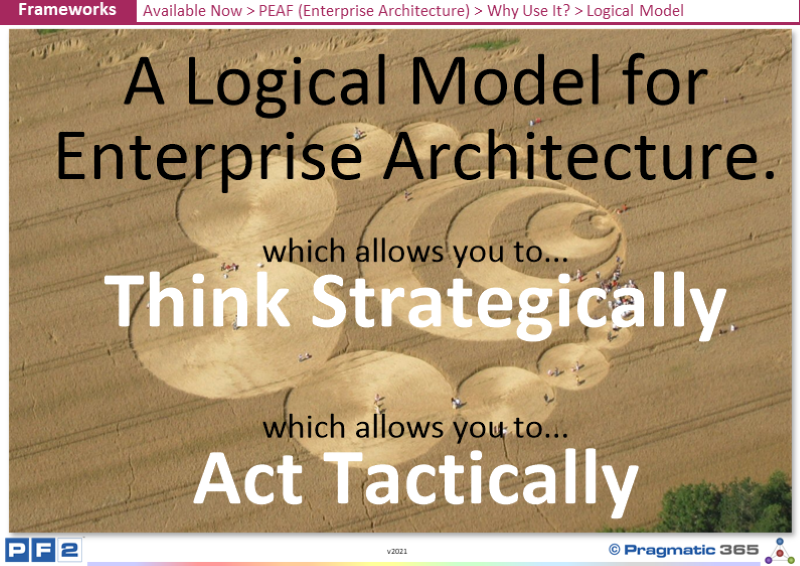 PEAF effectively defines a Logical Model for the Enterprise Architecture Capability. As such, PEAF should be used in the same way as any other Logical Model - a means to organise and orchestrate all the physical parts of the EA capability in an Enterprise together, into a coherent whole, whose focus is the end to end efficiency and effectiveness of the whole domain, not the efficiency or effectiveness of only its parts.
| | |
| --- | --- |
| Keypoint | Adopt this component by... |
| PEAF allows an Enterprise to Tactically improve parts of EA, in the context of the Strategic whole. | Management: Use PEAF to enable Tactically improve parts of Transformation, in the context of the Strategic whole. |
Questions to ponder...
What Logical Model for Enterprise Architecture does your Enterprise use?
If it doesn't use one, do you think it would be beneficial if it did?
Does your Enterprise think strategically and act tactically or just act tactically (with respect to improving How it "does" EA)?
What initiatives has your Enterprise undertaken to improve How EA is effected?
What did your Enterprise use to ensure that those initiatives fitted into a holistic and coherent strategy?