https://pragmatic365.org/display-show.asp?ComponentNo=000408
Do people in your Enterprise lie to themselves? Do you lie to yourself? Convincingly? Can you think of examples where this has happened in the past? Who were they? What was the impact? Why do you think they acted in this way? What needs to change to reduce the likelihood of it happening in the future? Who needs to drive that change? https://pragmatic365.org/display-show.asp?ComponentNo=000408 FREE EA Training at www.PEAF.com/Training FREE EA Books at www.PEAF.com/Books #PEAF #PragmaticEA #EntArch #enterprisearchitecture #BizArch #Change #Innovation #BusinessModel #CEO #Strategy #TOGAF #ITgovernance #agileculture #agile #agileleadership #agilemethodology #itstrategy #ceos
'How often it is that the angry man rages denial, of what his inner self is telling him.' - Frank Herbert (Dune) https://pragmatic365.org/display-show.asp?ComponentNo=000408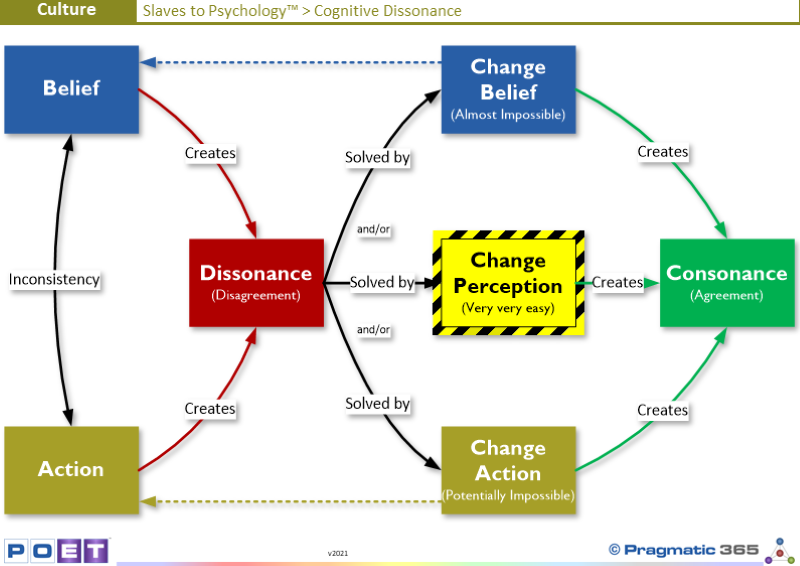 Cognitive dissonance theory is based on three fundamental assumptions:
® Humans are sensitive to inconsistencies between actions and beliefs.
® Recognition of this inconsistency will cause dissonance, and will motivate an individual to resolve the dissonance.
Keypoint

Adopt this component by...

'How often it is that the angry man rages denial, of what his inner self is telling him.'

- Frank Herbert (Dune)

C-Suite: Mandate that people recognise Cognitive Dissonance, and they donít lie to themselves.
Questions to ponder...
Do people in your Enterprise lie to themselves?
Do you lie to yourself? Convincingly?
Can you think of examples where this has happened in the past?
Who were they? What was the impact? Why do you think they acted in this way?
What needs to change to reduce the likelihood of it happening in the future?
Who needs to drive that change?