https://pragmatic365.org/display-show.asp?ComponentNo=000600
Which of these bricks of misconception exist in your Enterprise? What are the top 5? What will you do to address them? Who in your Enterprise hates EA? What do you need to do to stop them hating EA? What cultural risks, related to EA, exist in your Enterprise? What effect are they having on your EA capability and its output? Who is Accountable and Responsible for managing them? https://pragmatic365.org/display-show.asp?ComponentNo=000600 FREE EA Training at www.PEAF.com/Training FREE EA Books at www.PEAF.com/Books #PEAF #PragmaticEA #EntArch #enterprisearchitecture #BizArch #Change #Innovation #BusinessModel #CEO #Strategy #TOGAF #ITgovernance #agileculture #agile #agileleadership #agilemethodology #itstrategy #ceos
There are many risks related to increasing your EA maturity. 99% of these are misconceptions. If you do not address them, YOU WILL FAIL. https://pragmatic365.org/display-show.asp?ComponentNo=000600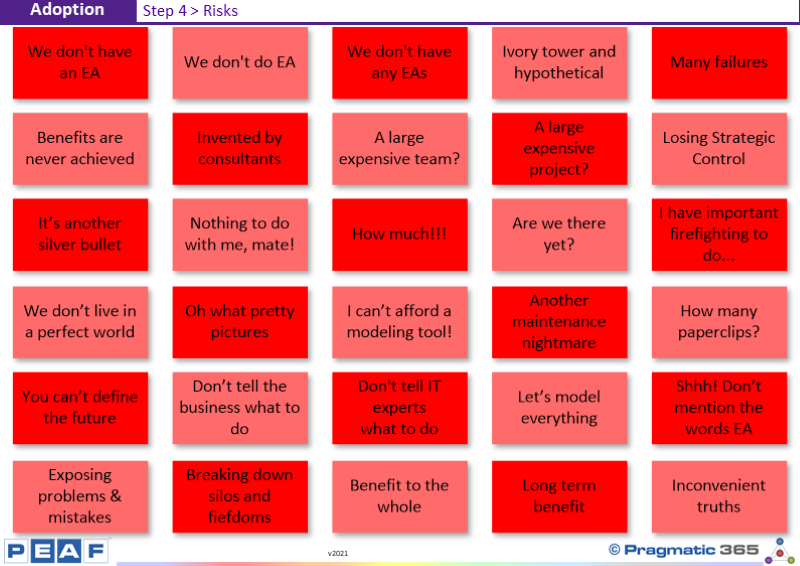 Because the field of Enterprise Architecture is very immature (we cannot call it a profession) and there is no way to know who is and is not a "real" Enterprise Architect, almost anyone can call themselves an Enterprise Architect and begin telling others about it. Negativity around EA is widespread but it is not a surprise. Most people and Enterprises have just enough knowledge to be dangerous!
Keypoint

Adopt this component by...

There are many risks related to increasing your EA maturity. 99% of these are misconceptions. If you do not address them, YOU WILL FAIL.

C-Suite: Instigate an initiative to Break down the Brick Wall of Misconceptions about EA.

C-Suite: Reward; 1) The exposing of problems and mistakes. 2) The breaking down of silos and fiefdoms. 3) Striving for long-term benefits to the Enterprise, rather than short-term benefits to individuals.

EA Project Team: Continually communicate.
Questions to ponder...
Which of these bricks of misconception exist in your Enterprise?
What are the top 5?
What will you do to address them?
Who in your Enterprise hates EA?
What do you need to do to stop them hating EA?
What cultural risks, related to EA, exist in your Enterprise?
What effect are they having on your EA capability and its output?
Who is Accountable and Responsible for managing them?