https://pragmatic365.org/display-show.asp?ComponentNo=000550
Do you agree with this description of the Purpose of EA? If not, why not? What would you add? Take away? Change? https://pragmatic365.org/display-show.asp?ComponentNo=000550 FREE EA Training at www.PEAF.com/Training FREE EA Books at www.PEAF.com/Books #PEAF #PragmaticEA #EntArch #enterprisearchitecture #BizArch #Change #Innovation #BusinessModel #CEO #Strategy #TOGAF #ITgovernance #agileculture #agile #agileleadership #agilemethodology #itstrategy #ceos
When asking 300+ people the question "What is EA?", the answer is surprising simple when you remove all the noise. https://pragmatic365.org/display-show.asp?ComponentNo=000550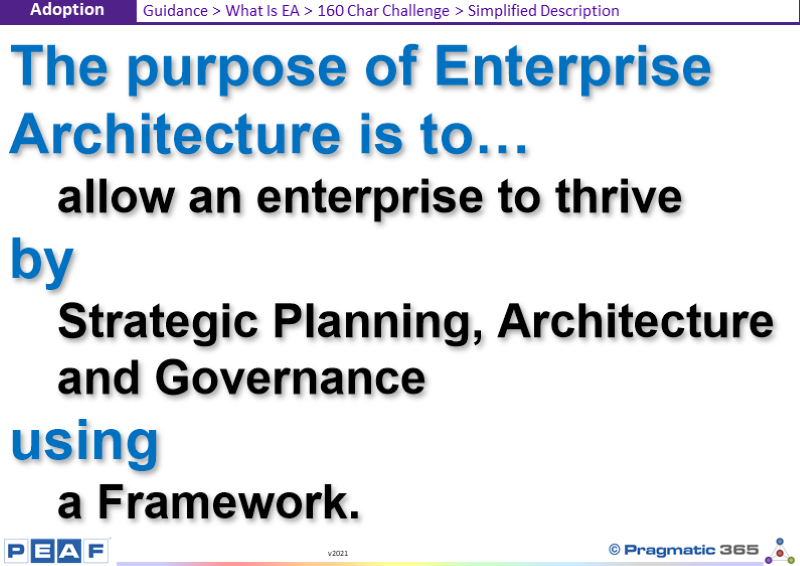 Reducing those words to something more succinct produces this.
Having done all this analysis work I had hoped that this would unite people behind a common definition since it was they who had effectively created it - I added nothing of my own views and only took, analysed and structured what people had said.
I was wrong. So wrong!
| | |
| --- | --- |
| Keypoint | Adopt this component by... |
| When asking 300+ people the question "What is EA?", the answer is surprising simple when you remove all the noise. | |
Questions to ponder...
Do you agree with this description of the Purpose of EA?
If not, why not?
What would you add? Take away? Change?