https://pragmatic365.org/display-show.asp?ComponentNo=000294
Are the people working in your Enterprises Transformation domain, synchronised? If not, what problems does this create? If not, what can you do to help the synchronisation? https://pragmatic365.org/display-show.asp?ComponentNo=000294 FREE EA Training at www.PEAF.com/Training FREE EA Books at www.PEAF.com/Books #PEAF #PragmaticEA #EntArch #enterprisearchitecture #BizArch #Change #Innovation #BusinessModel #CEO #Strategy #TOGAF #ITgovernance #agileculture #agile #agileleadership #agilemethodology #itstrategy #ceos
Utilise Governance and Lobbying to synchronise Transformation. https://pragmatic365.org/display-show.asp?ComponentNo=000294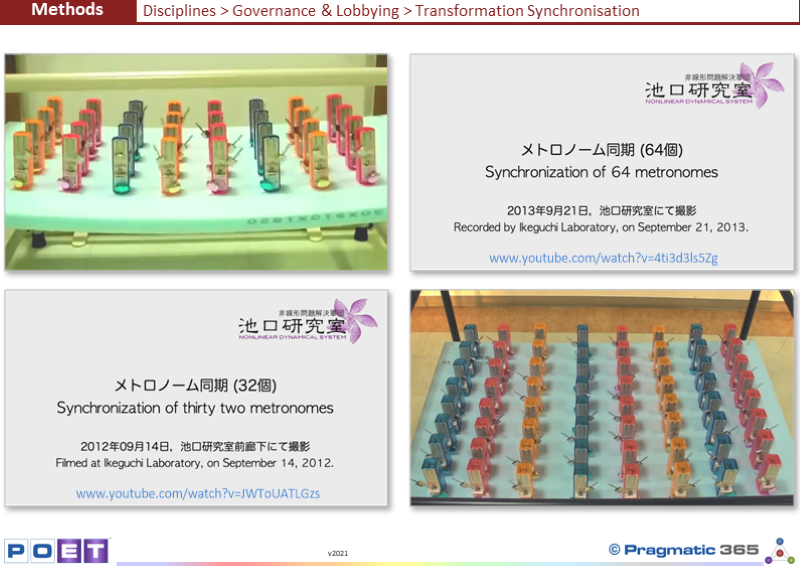 The Transformation Capability is made up of many parts. These parts are in constant motion and all are trying to do the best that they can. Even if those parts start off being synchronised and working together, over time they tend to become de-synchronised and in some cases even start working against each other.
None of the parts want to work against any other part but the context they all work within does not tend to lend itself to helping the individual parts.
| | |
| --- | --- |
| Keypoint | Adopt this component by... |
| Utilise Governance and Lobbying to synchronise Transformation. | Management: Implement Governance and Lobbying. |
Questions to ponder...
Are the people working in your Enterprises Transformation domain, synchronised?
If not, what problems does this create?
If not, what can you do to help the synchronisation?