https://pragmatic365.org/display-show.asp?ComponentNo=000622
What Frameworks do you currently use? How do they relate to each other? Are there any overlaps or gaps? If so, does this present any issues or problems? What will you do to alleviate or solve them? https://pragmatic365.org/display-show.asp?ComponentNo=000622 FREE EA Training at www.PEAF.com/Training FREE EA Books at www.PEAF.com/Books #PEAF #PragmaticEA #EntArch #enterprisearchitecture #BizArch #Change #Innovation #BusinessModel #CEO #Strategy #TOGAF #ITgovernance #agileculture #agile #agileleadership #agilemethodology #itstrategy #ceos
Frameworks must work together. https://pragmatic365.org/display-show.asp?ComponentNo=000622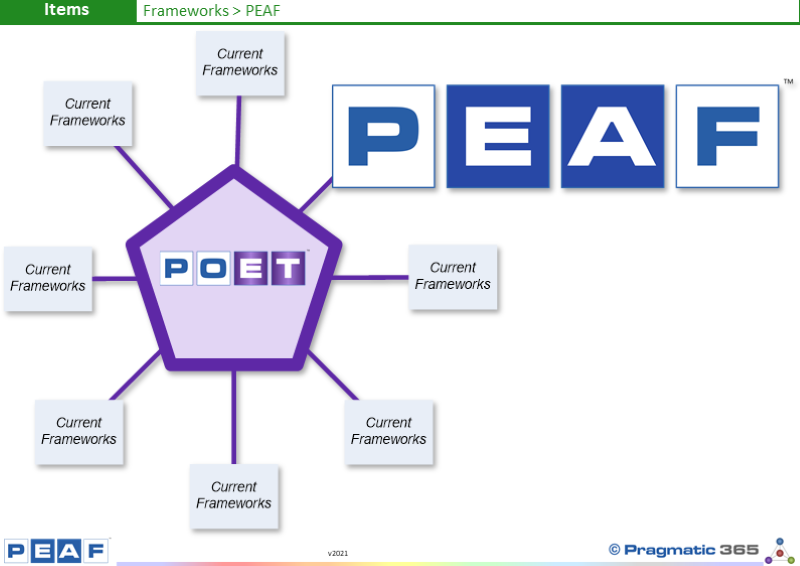 PEAF is obviously the framework in use here, however, we need to make sure that PEAF fits in with the other frameworks the Enterprise uses in the Enterprise Architecture Capability (as defined by PEAF.
This section would therefore need expanding to include the frameworks you currently use and information on how they overlap and interact.
| | |
| --- | --- |
| Keypoint | Adopt this component by... |
| Frameworks must work together. | EA Project Team: Use POET to make sure you know how PEAF integrates with other Frameworks you use or intend to use. |
Questions to ponder...
What Frameworks do you currently use?
How do they relate to each other?
Are there any overlaps or gaps?
If so, does this present any issues or problems?
What will you do to alleviate or solve them?