https://pragmatic365.org/display-show.asp?ComponentNo=000789
Does this process match your Enterprises process for performing Solution Architecture work? If not, is their anything missing? How would you mature your Enterprises Solution Architecture process? https://pragmatic365.org/display-show.asp?ComponentNo=000789 FREE EA Training at www.PEAF.com/Training FREE EA Books at www.PEAF.com/Books #PEAF #PragmaticEA #EntArch #enterprisearchitecture #BizArch #Change #Innovation #BusinessModel #CEO #Strategy #TOGAF #ITgovernance #agileculture #agile #agileleadership #agilemethodology #itstrategy #ceos
If Solution Architecture is not carried out properly, any EA will be seriously compromised. https://pragmatic365.org/display-show.asp?ComponentNo=000789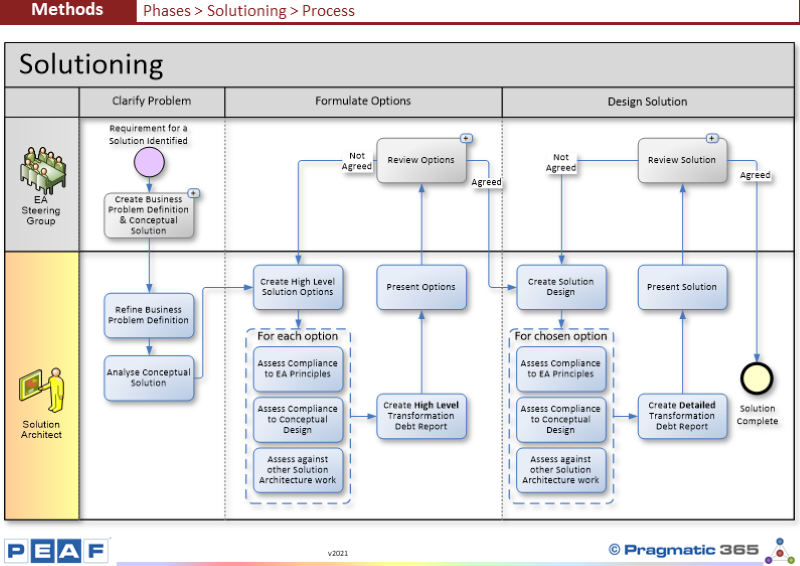 Solutioning is not part of PEAF and does not prescribe what this phase does, (that is the job of PEEF - The Pragmatic Enterprise Engineering Framework) but we need to document it so we can show how Governance & Lobbying fits in, and also to make sure it fits in, in the correct way.
The key things are:
| | |
| --- | --- |
| Keypoint | Adopt this component by... |
| If Solution Architecture is not carried out properly, any EA will be seriously compromised. | Enterprise Architect: Ensure that Solutioning is carried out in a structured way. |
Questions to ponder...
Does this process match your Enterprises process for performing Solution Architecture work?
If not, is their anything missing?
How would you mature your Enterprises Solution Architecture process?