https://pragmatic365.org/display-show.asp?ComponentNo=000503
What Operating model do you use for Support? Do people know what it is? Is it fit for purpose? If not, who is Accountable for improving it? Who is Responsible for improving it? Does your Support capability support many things or only IT? Do you have duplicate Support capabilities (first and second line) one for internal IT and one for customerís problems? If so, why? https://pragmatic365.org/display-show.asp?ComponentNo=000503 FREE EA Training at www.PEAF.com/Training FREE EA Books at www.PEAF.com/Books #PEAF #PragmaticEA #EntArch #enterprisearchitecture #BizArch #Change #Innovation #BusinessModel #CEO #Strategy #TOGAF #ITgovernance #agileculture #agile #agileleadership #agilemethodology #itstrategy #ceos
POES allows you to Strategically guide the Tactical changes, to the Support capability of your Enterprise. https://pragmatic365.org/display-show.asp?ComponentNo=000503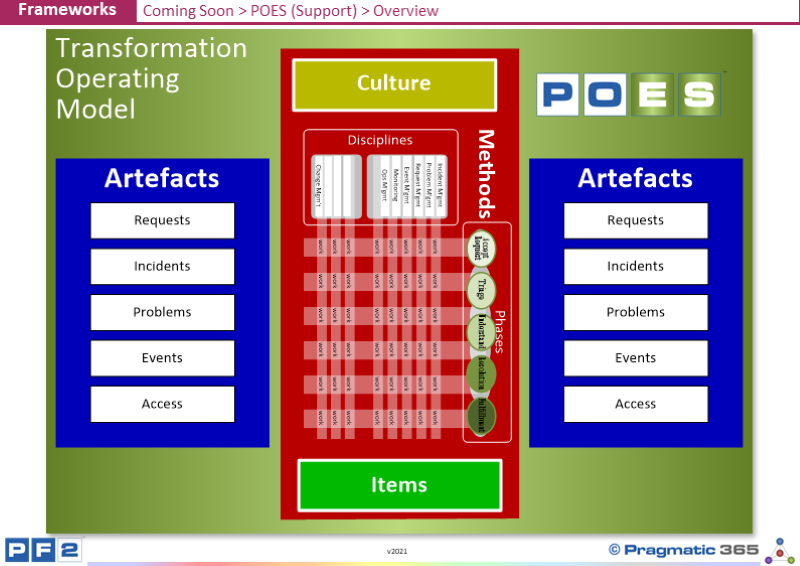 We can also see that Support is defined by MAGIC. The Phases, Disciplines and Artefacts are all related to Support. This is the Capability that POES helps to structure. POES effectively defines the Conceptual Operating Model for Enterprise Support.
Within your Enterprise, Support is using an Operating Model - whether it is good or bad, documented or not.
| | |
| --- | --- |
| Keypoint | Adopt this component by... |
| POES allows you to Strategically guide the Tactical changes, to the Support capability of your Enterprise. | C-Suite: Mandate the use of POES to Strategically guide, Tactical changes to the Support capability of your Enterprise. |
Questions to ponder...
What Operating model do you use for Support?
Do people know what it is?
Is it fit for purpose?
If not, who is Accountable for improving it?
Who is Responsible for improving it?
Does your Support capability support many things or only IT?
Do you have duplicate Support capabilities (first and second line) one for internal IT and one for customerís problems?
If so, why?