https://pragmatic365.org/display-show.asp?ComponentNo=000450
What happens in your Enterprise when problems occur? Are people applauded for exposing problems, or ignored? Lambasted? Would your Enterprise's Transformation capability produce more quality output if problems were identified and dealt with as and when they occur? https://pragmatic365.org/display-show.asp?ComponentNo=000450 FREE EA Training at www.PEAF.com/Training FREE EA Books at www.PEAF.com/Books #PEAF #PragmaticEA #EntArch #enterprisearchitecture #BizArch #Change #Innovation #BusinessModel #CEO #Strategy #TOGAF #ITgovernance #agileculture #agile #agileleadership #agilemethodology #itstrategy #ceos
Pushing the Red Button is not recommended. It is a necessity. https://pragmatic365.org/display-show.asp?ComponentNo=000450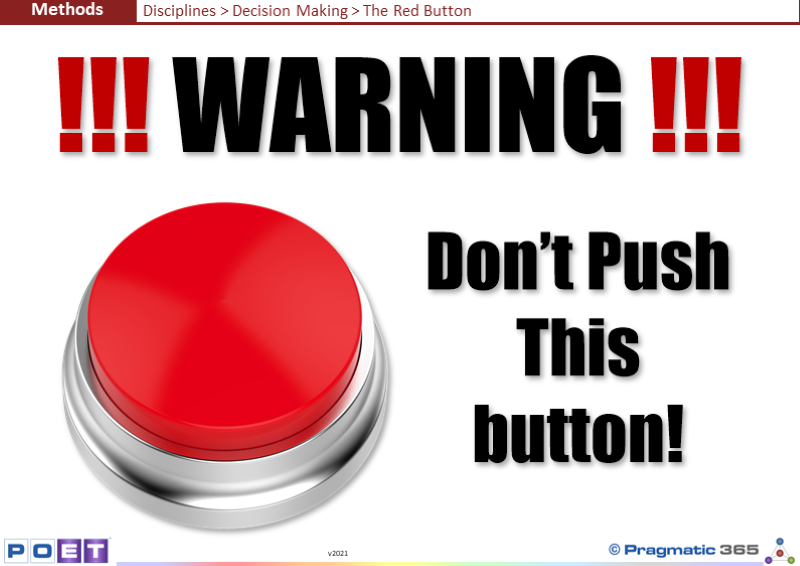 There is a famous quote…
"Good decisions come from experience. Experience comes from making bad decisions."
- Mark Twain
The basic idea behind this quote is excellent, and certainly very eloquent. However, it also hides the cultural problems that tend to make its use extremely limited in practice.
Keypoint

Adopt this component by...

Pushing the Red Button is not recommended.

It is a necessity.

C-Suite: Mandate that people are rewarded, not punished, for pushing the "Red Button".
Questions to ponder...
What happens in your Enterprise when problems occur?
Are people applauded for exposing problems, or ignored? Lambasted?
Would your Enterprise's Transformation capability produce more quality output if problems were identified and dealt with as and when they occur?