https://pragmatic365.org/display-show.asp?ComponentNo=000495
What frameworks that you know of, fit into the Transformation domain? https://pragmatic365.org/display-show.asp?ComponentNo=000495 FREE EA Training at www.PEAF.com/Training FREE EA Books at www.PEAF.com/Books #PEAF #PragmaticEA #EntArch #enterprisearchitecture #BizArch #Change #Innovation #BusinessModel #CEO #Strategy #TOGAF #ITgovernance #agileculture #agile #agileleadership #agilemethodology #itstrategy #ceos
POET - The Pragmatic Operating model for Enterprise Transformation. https://pragmatic365.org/display-show.asp?ComponentNo=000495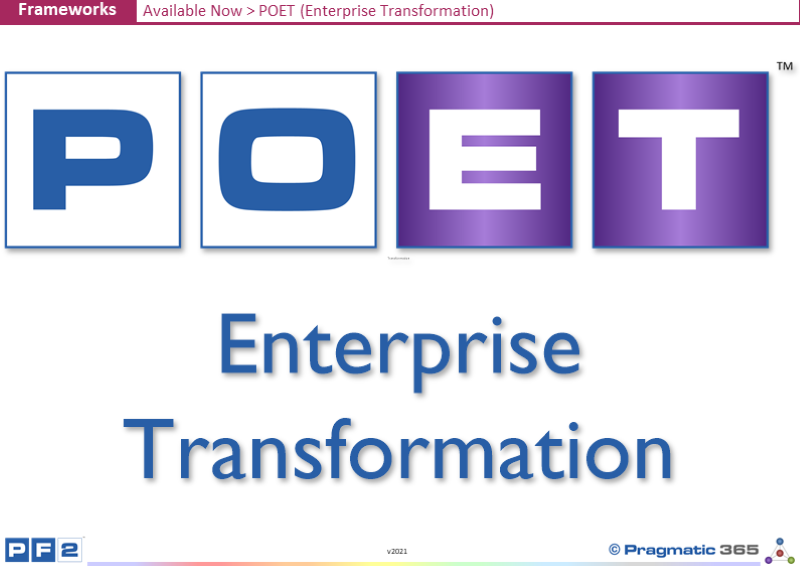 "The only constant is change!" has been the battle cry for many years but just being able to deal with change is no longer enough. The new battle cry is "The only constant is the acceleration of change!"
How an Enterprise effects the whole of Transformation is becoming a Strategic Strength or a Strategic Weakness, where massive business opportunities can be gained or massive business problems will result.
| | |
| --- | --- |
| Keypoint | Adopt this component by... |
| POET - The Pragmatic Operating model for Enterprise Transformation. | C-Suite: Instigate a review of the Enterprise's Transformation Capability, and determine if POET can be useful to the Enterprise. |
Questions to ponder...
What frameworks that you know of, fit into the Transformation domain?