https://pragmatic365.org/display-show.asp?ComponentNo=000677
Does this process match your Enterprises process for Rolling Out Culture Change? If not, is their anything missing? How would you define this process? https://pragmatic365.org/display-show.asp?ComponentNo=000677 FREE EA Training at www.PEAF.com/Training FREE EA Books at www.PEAF.com/Books #PEAF #PragmaticEA #EntArch #enterprisearchitecture #BizArch #Change #Innovation #BusinessModel #CEO #Strategy #TOGAF #ITgovernance #agileculture #agile #agileleadership #agilemethodology #itstrategy #ceos
If you donít change the culture, you will FAIL. https://pragmatic365.org/display-show.asp?ComponentNo=000677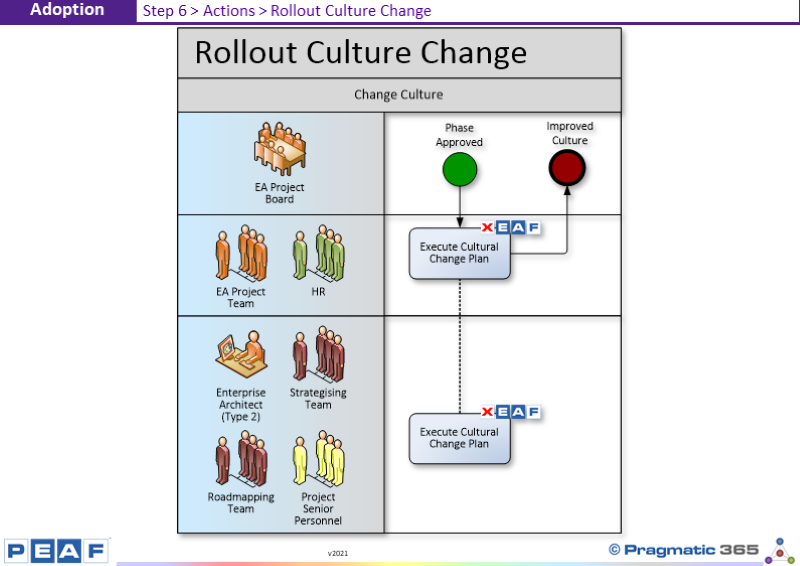 This process effects the cultural and human change necessary to bring about a more long term view of the management and direction of the Enterprise.
Without this, it does not matter how many principles, processes or models you adopt as the direction and management will continue to compromise the future of the Enterprise for short term (usually) financial individual gain.
| | |
| --- | --- |
| Keypoint | Adopt this component by... |
| If you donít change the culture, you will FAIL. | EA Project Team: Roll out the Culture change |
Questions to ponder...
Does this process match your Enterprises process for Rolling Out Culture Change?
If not, is their anything missing?
How would you define this process?