https://pragmatic365.org/display-show.asp?ComponentNo=000584
With respect to your Enterprises EA capability, what Artefacts are used? Are those Artefacts documented? Understood? Are they fit for purpose? Are they used? All the time? Only when it suits? Which of them are Good? Why? Bad? Why? https://pragmatic365.org/display-show.asp?ComponentNo=000584 FREE EA Training at www.PEAF.com/Training FREE EA Books at www.PEAF.com/Books #PEAF #PragmaticEA #EntArch #enterprisearchitecture #BizArch #Change #Innovation #BusinessModel #CEO #Strategy #TOGAF #ITgovernance #agileculture #agile #agileleadership #agilemethodology #itstrategy #ceos
The Artefacts section of PEAF defines 'WHAT' information is consumed and produced and 'WHEN'. https://pragmatic365.org/display-show.asp?ComponentNo=000584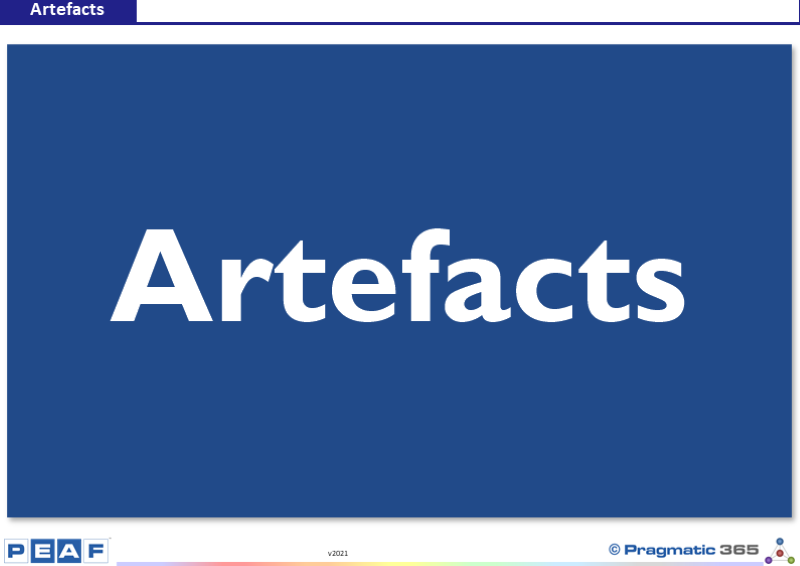 The artefacts defined in PEAF constitute the EA Meta-model and some of its content such as Principles.
There are many Meta-models that already exist (for the reasons defined above) and the lack of a Meta-model has never really been a reason why EA initiatives fail. For this reason, PEAF does not concentrate on defining a complete and detailed Meta-model (no point reinventing the wheel). However, PEAF does defines some important things that are usually missing and also exposes a higher level structure that people can use to understand how the detailed Meta-models they wish to use fit and relate.
| | |
| --- | --- |
| Keypoint | Adopt this component by... |
| The Artefacts section of PEAF defines 'WHAT' information is consumed and produced and 'WHEN'. | C-Suite: Instigate a review of the Artefacts used for Enterprise Architecture, to determine if their maturity is appropriate. |
Questions to ponder...
With respect to your Enterprises EA capability, what Artefacts are used?
Are those Artefacts documented? Understood?
Are they fit for purpose?
Are they used? All the time? Only when it suits?
Which of them are Good? Why? Bad? Why?