https://pragmatic365.org/display-show.asp?ComponentNo=000479
Do you have a CXO? Who in your Enterprise will bang the boardroom table to resources to improve how Transformation is effected? Who in your Enterprise would be best placed to move into that role? Are Transformation and Support represented at the CxO level in your Enterprise? If not, does this cause any problems? What are the impact of these problems? What needs to happen to alleviate these problems? https://pragmatic365.org/display-show.asp?ComponentNo=000479 FREE EA Training at www.PEAF.com/Training FREE EA Books at www.PEAF.com/Books #PEAF #PragmaticEA #EntArch #enterprisearchitecture #BizArch #Change #Innovation #BusinessModel #CEO #Strategy #TOGAF #ITgovernance #agileculture #agile #agileleadership #agilemethodology #itstrategy #ceos
Someone should be Accountable for the strategically important Transformation capability of the Enterprise. https://pragmatic365.org/display-show.asp?ComponentNo=000479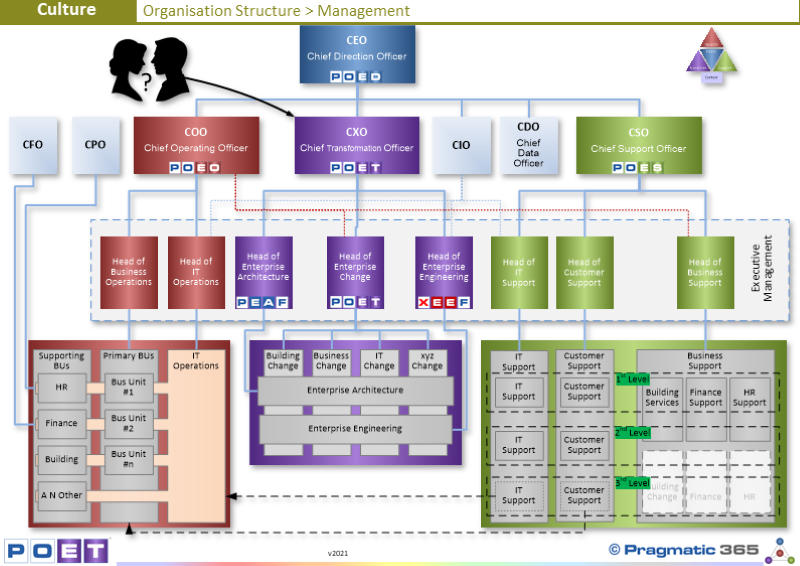 Here we suggest the Executive Structure required for an Enterprise based on DOTS.
The COO would have the Head of Business Operations and the Head of IT Operations reporting to them. To the COO, it doesn't matter if the business is being executed by a person or a machine. He is accountable for the execution of Operations, but also for the improvement to Operations. All of Operations.
| | |
| --- | --- |
| Keypoint | Adopt this component by... |
| Someone should be Accountable for the strategically important Transformation capability of the Enterprise. | C-Suite: Appoint a Chief Transformation Officer (CXO). |
Questions to ponder...
Do you have a CXO?
Who in your Enterprise will bang the boardroom table to resources to improve how Transformation is effected?
Who in your Enterprise would be best placed to move into that role?
Are Transformation and Support represented at the CxO level in your Enterprise?
If not, does this cause any problems?
What are the impact of these problems?
What needs to happen to alleviate these problems?