https://pragmatic365.org/display-show.asp?ComponentNo=000547
If someone asked you the purpose of EA, would your reply be an answer to WHY do EA, HOW to do EA or WHAT is used to do EA? How do you think it aids peoples understanding of EA to have so many different answers? https://pragmatic365.org/display-show.asp?ComponentNo=000547 FREE EA Training at www.PEAF.com/Training FREE EA Books at www.PEAF.com/Books #PEAF #PragmaticEA #EntArch #enterprisearchitecture #BizArch #Change #Innovation #BusinessModel #CEO #Strategy #TOGAF #ITgovernance #agileculture #agile #agileleadership #agilemethodology #itstrategy #ceos
If you ask 100 people what is the purpose of EA you will get 100 different responses that only together are likely to give you the full picture. https://pragmatic365.org/display-show.asp?ComponentNo=000547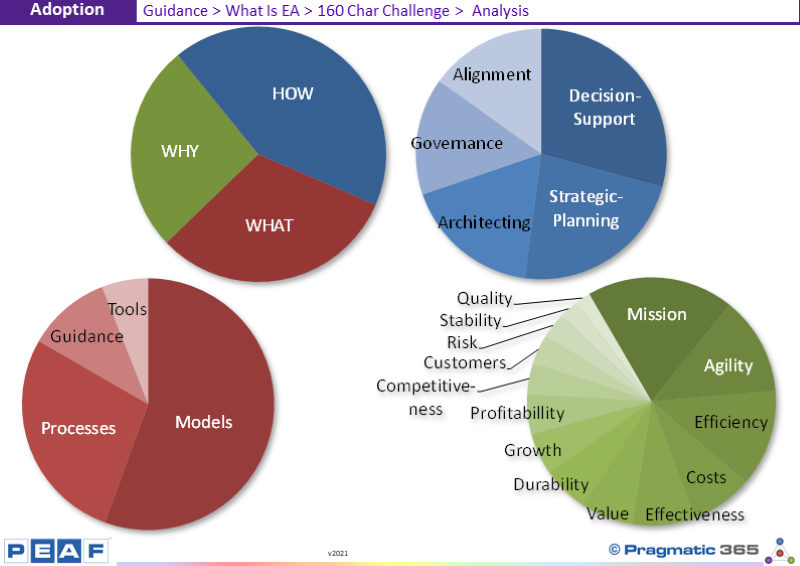 Overall
Although I asked people to state the Purpose of EA (the Why) the first interesting thing that became apparent was that people's responses fell into three distinct categories.
¨ WHY - These responses were a direct response to the actual question asked - the Purpose of EA - WHY do we "do it".
| | |
| --- | --- |
| Keypoint | Adopt this component by... |
| If you ask 100 people what is the purpose of EA you will get 100 different responses that only together are likely to give you the full picture. | |
Questions to ponder...
If someone asked you the purpose of EA, would your reply be an answer to WHY do EA, HOW to do EA or WHAT is used to do EA?
How do you think it aids peoples understanding of EA to have so many different answers?