https://pragmatic365.org/display-show.asp?ComponentNo=000625
Do you agree with these overall ratings? If not, what would you change? https://pragmatic365.org/display-show.asp?ComponentNo=000625 FREE EA Training at www.PEAF.com/Training FREE EA Books at www.PEAF.com/Books #PEAF #PragmaticEA #EntArch #enterprisearchitecture #BizArch #Change #Innovation #BusinessModel #CEO #Strategy #TOGAF #ITgovernance #agileculture #agile #agileleadership #agilemethodology #itstrategy #ceos
The EA framework you choose, depends on what you want from your EA framework. https://pragmatic365.org/display-show.asp?ComponentNo=000625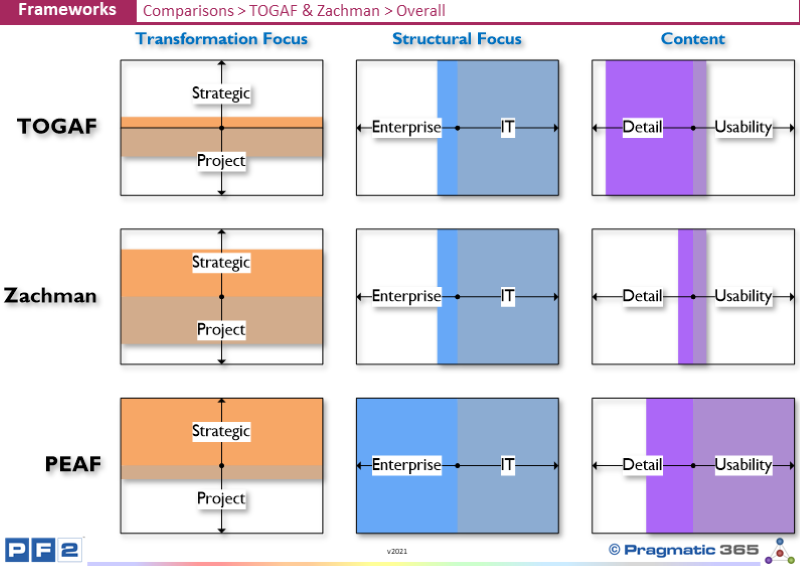 TOGAF
TOGAF's Transformational focus is mainly on the Solutioning and Elaboration phases of projects and the governance of Construction. It does cover Roadmapping to a small degree but only really from the point of Roadmapping for a very large project or a program. It doesn't cover Construction or Transitioning and its Structural focus is very IT oriented. It does provide a large amount of detail but largely because of this and other issues it is not very usable and difficult to implement.
| | |
| --- | --- |
| Keypoint | Adopt this component by... |
| The EA framework you choose, depends on what you want from your EA framework. | EA Project Team: Decide what you want from an EA framework. |
Questions to ponder...
Do you agree with these overall ratings?
If not, what would you change?